How to Motivate Yourself at Work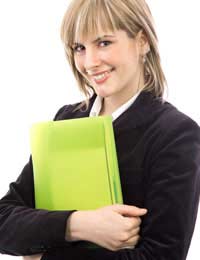 Even if you enjoy your job it can still be difficult to motivate yourself on a daily basis. Whether it is the early starts, office politics or lack of inspiring work, sometimes you feel like you just don't want to go in any more. This is a common situation to be in and it can be difficult to get back on track. By taking small steps, celebrating the progress that you do make, and looking forward at your future career development, you will be able to increase your motivation and feel happier about your career.
Set Yourself Goals
Often, part of the reason for losing motivation is the feeling that you are not achieving anything new and are just rolling along doing the same thing. One way to get around this is to set yourself goals. These can be small things, such as tidying your desk or increasing your typing speed, or they can be more focused on your career development, such as
Gaining More Training
or taking on more responsibility.
Celebrate Your Successes
If you feel as if nobody pays any attention to all the hard work that you do, it can be easy to lose motivation. Redress this balance by celebrating your own success and making it clear to others what you are doing. You don't want to brag, as this will only
Annoy Your Colleagues
. However, there is nothing wrong with telling your manager about the projects you have been working on and the results that you have seen. Feel proud about what you have done and how you have contributed to the company.
Reward Yourself
If a child does something good, then you would reward them, so why not yourself? Sometimes it only takes a little treat to motivate yourself and feel better about your day at work. Whether it is something small like a cup of tea for finishing your filing or a bigger reward, such as a spa day for completing a big project, it really can make a difference. Of course, you hope that a successful career development will be reward enough, but sometimes we all need a little boost along the way.
Career Development
You be finding it difficult to motivate yourself day to day but sometimes you need to look at the bigger picture. Think about where you want your career to go and how you can work on your career development. Make a plan and each week take a small step towards making it a reality. Perhaps you need to gain some more training, improve certain skills or
Improve Your CV
. Whatever it is, knowing that you are heading for bigger and better things will help you make it through the daily grind.
Impressing Your Boss
Making sure your hard work is seen by the right people can be a key step towards moving up the career ladder. Find out how to stand out from the crowd by reading our article
Show Your Potential To Decision Makers
.
You might also like...
This site displays some very positive, well-rounded advice with an open and optimistic view. It's certainly given me a boost to start thinking long and hard about my career and whether or not I should stay put or whether it's time for me to move on. Thanks Matt
BathMatt
- 6-Sep-12 @ 9:58 PM