Keeping Your Job in a Recession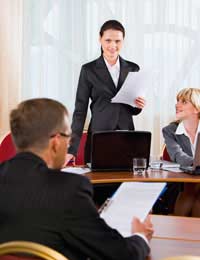 There are four key ways that you can recession-proof your job, over and above making sure you are always on time, smart and impeccably behaved. With so many companies finding that they need to cut costs wherever possible alongside falling business demands, it makes sense to be the very best you can be, so when the list of possible redundancies is drawn up, your name isn't on it.
Perform Well
This is not a time for slacking. During a recession, all companies are keen to be the leanest operation possible, which is very different to the boom years of the 1990s and early 2000s. This may mean that it's quite a mind shift for people that have only worked in the years where business was consistently growing, invoices were always paid on time, and there was no thought that this could all collapse.
You must perform over and above your job description and you must do so willingly. Unless you secretly want to be Made Redundant because you have a burning ambition to write that novel (and can afford to be without your salary), then you have to cling on to your job because chances are there may not be another one for a while. Do everything you can to meet your targets and go beyond expectations.
Don't Make Demands
It may not be fashionable to say this, but now is really not the time to be asking for long holidays, sabbaticals or flexible working. It's not even a good time to have lengthy dental treatment or to be signed off sick by the doctor. Yes, that sounds terrible, and companies would never admit it or they'd be opening themselves up to all sorts of constructive dismissal cases, but the truth is now is the time to get on with your job.
Of course, if you're ill you need time off, but a cold or a bad headache is not worth calling in sick for or you may find yourself on garden leave.
Save Costs
If there is anyway that you can help your company to be more efficient and save costs, you will be considered a valuable part of the team rather than a headcount that needs reducing. See if there are ways you can promote reduced water, electricity or paper consumption in your department, or suggest only shared taxis are used with public transport at all other times. Crikey, if David Cameron is happy to be walking around Westminster, there's no reason why managers can't use their Oyster Card instead of automatically leaping into a costly cab!
Bring in New Business
New business is the Holy Grail during a recession. Everyone is clambering for the same piece of the pie, so if you can be the one that wins it, you'll be far more likely to hang on to your job when redundancies are announced.
Do whatever you can to Network, build relationships and learn about the project decision makers. By winning new business, you'll be supporting the company as well as your position in it. It's the ultimate in recession-proofing so if you're the one making it happen, you job will be far more secure.
Show Your Potential
Another way to ensure you stay in employment is by impressing the right people in your business. Read
Our Guide
to showing your potential to the people who make the decisions on redundancy, promotion or pay rises.
You might also like...