Asking for a Career Development Review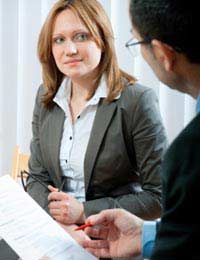 Asking for a career development review is a great way to make sure that your career is on track – both from your perspective and from your employer's. It can be a little tricky to know how and when to ask for a review, though, especially during tough economic times when no one is totally sure how secure their job is, but if you're thinking that you need to make some career decisions, a career review can help to see things clearly.
Why Ask for a Career Development Review
Essentially, a career review is a meeting with your line manager or boss to ascertain how you are getting on. It usually includes a discussion on your results or targets, your current, past and future projects, and how you feel about your role. They are usually informal if you request them yourself, rather than a more formal annual review that could include perhaps your
HR manager
or a more senior figure. As such, a career development review can help you understand where your career is heading and how much your company values your input, which can really help you to make the important decision of taking a career change.
Some people who are thinking about a career change decide to ask for a career development review in order to get a more definitive view of their job. It may be that a Promotion that you were not aware of is possible, or that the company is moving to new offices that would make your commute less appealing. You can also find out more about possible training courses, new opportunities or areas where you could improve. Whatever the details, asking for a career development review simply means that you will know the information that already exists, and you can act on it as appropriate.
How to Ask for a Review
As long as you are not too demanding about the length or timing of the review, you should be able to ask for one relatively quickly. A simple email to your line manager saying that you are keen to get some feedback on how you're getting on should suffice – even better if you suggest a time (15-30 minutes will be plenty) for you to go for a coffee together to discuss your progress.
When to Ask for a Review
Be careful not to ask at an inopportune moment or what is essentially a simple request will seem like a bigger deal. First thing Monday morning or last thing on a Friday is never a good time, nor is just before a holiday or special event. Similarly, asking just before or after redundancies are made is not a good plan. Try asking at a time when you know your line manager is relaxed but not too relaxed – just after lunch mid-week when there are not pressing deadlines is the best time.
What Next?
Once you have the time for your career development review in place, it's worth doing some preparation. Even if you are using this review to see if now is a good time to make a career change, you do not need to tell your line manager that. If they ask you straight out, you could say that you are keen to know where your career is heading at the company and if they're happy with you, in order to make sure that you keep your plans private and only act on what is in your own best interests.
Kick-start your Career
Feeling like your career has hit a brick wall? Find out who to rejuvenate both yourself and your career in our article
Kick-starting a Stagnating Career
.
You might also like...