Working in the Exhibition Sector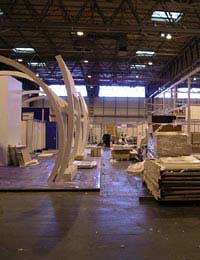 There are a wide variety of careers available in the exhibition sector, yet it is one of those areas that people don't really know much about. The exhibition sector is a fast-paced, highly targeted market that has roles available in sales, marketing, business development, Events Management and planning, not to mention all the exterior roles such as design, set building and filming.
The exhibition sector tends to be dominated by roles that are either connected to a specific venue, such as an exhibition centre, a hotel or a university, or are for the organisations that run trade events, such as trade magazines. The roles at large exhibition centres, such as the NEC in Birmingham or ExCel in London, are more varied as they relate to the different events that are held there, whereas working for a trade magazine means you only deal with the exhibitions in that sector. This is important to remember if you're looking for a mix of events, rather than a specialism in a particular area.
Skills & Experience
For the core exhibition sector roles of event management and event planning, there are no specific qualifications required, although they usually specify graduates on the job adverts. Increasingly, there are relevant degree subjects available, and this may help your application stand out, but it will not guarantee success.
These roles require excellent organisational skills, strong communication skills with people on all levels and the ability to stay calm. There is an awful lot of planning that goes into successful event management, with plenty of last minute panics that need to be handled with practical professionalism, particularly when your clients are likely to be the ones getting wound up! This means that the people that succeed in these roles are able to turn around difficult situations, be flexible and open-minded in coming up with ingenious answers to last minute problems and be able to manage a cross-section of people effectively.
Salary Expectations
The salary scale for working in the exhibition sector varies enormously, with previously experience, a reputation for getting things done and a bulging contacts book the key to getting ahead. For graduates starting out, a salary of around £15,000 is average, although there can be some decent perks including hotel accommodation, travel and all manner of promotional goodies! For those roles that include financial targets, such as the sales jobs for the exhibition centres themselves, there can be excellent financial rewards or sales incentives.
Career Development
The exhibition sector is a fast-paced, competitive environment, so hiring and firing is not unusual. There is also plenty of
Headhunting
and poaching of the best employees going on, especially those with a
Strong Network
that they can bring with them to a new company. As such, it is quite a secretive industry, but one which offers a great deal of excitement and interest to those that are prepared to work hard.
Jobs in this sector can be found through dedicated Recruitment Agencies rather than high street agencies, with many of the exhibition centres advertising directly. There are also a number of temporary jobs in this field prior to large events, so this is a good time to get your foot in the door and impress the company so much they ask you to stay permanently!
You might also like...