How to Become a Retail Buyer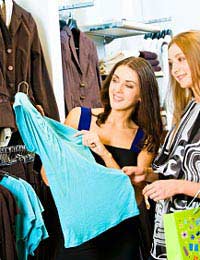 The competition for retail buying positions is fierce as it is an exciting and creative sector of the retail industry. These highly sought-after positions can attract the most suitable candidates with the best experience and skills. Becoming a retail buyer, therefore, is not an easy career path. In order to succeed you must be dedicated.
There are a number of retail buying higher education courses, including HNDs and some degree courses, although many of the big name retail chains will look at graduates from a variety of disciplines, including creative and management subjects. Most retail graduate training schemes require a 2:2 or above, although industry experience also counts a great deal, with many retail buyers starting out their career on the shop floor and working up the career ladder through internal promotions.
Pay and Progression
Starting salaries for retail buyers often depend on whether you have joined a dedicated graduate training scheme. For those joining a scheme straight from university, expect a starting salary of around £16,000, although these participants are often fast-tracked and can expect their salary to rise relatively quickly. After two years, you can expect to earn at least £20,000, but it will not necessary continue to rise so quickly.
For retail buyers who have worked their way up the career ladder within a particular organisation, the average salary is around £25,000 for up to six or seven years' experience, with senior buyers in large chains often earning upwards of £35,000 to £40,000. It is also worth mentioning that good retail buyers are often headhunted by rival companies keen to get access to your skills and contacts book. Being Headhunted remains the best single way to gain a considerable Pay Rise as the company has already shown an interest in you.
Skills Required
The types of skills required to be a successful retail buyer are both creative and practical. A key element of the job description of a retail buyer is the ability to analyse the sales figures of the company or department and extrapolate the relevant information so that you can order the correct products. A retail buyer will need to be comfortable presenting this information to regional and territorial managers, so confidence in communication is necessary.
The creative skills required of a good retail buyer are generally related to trend forecasting and understanding what customers want. Knowledge of pricing, product quality, merchandise availability and competitors products are all important too because the retail buyer must keep the store's product offer desirable and relevant to changing fashions. There may also be the need to liaise with other departments, such as logistics to establish the correct supply chain.
Working Conditions
Most retail buyers are office based, usually at the company headquarters. For many large retail organisations, the headquarters are based in or around London, so the majority of retail buyers are based in the south of England. Travel is relatively rare, although there may be the necessity to visit clothing or product manufacturers, which are increasingly overseas. Attendance at trade fairs and industry exhibition may also be required, with long hours common, especially at transitional times when new stock levels are assessed.
Becoming a Retail Manager
Have you considered making a move into retail management? You'll find a detailed description of the skills and qualifications that are required, as well as the salary details and the job description in our article
A Career In Retail Management
.
You might also like...