A Career in Retail Management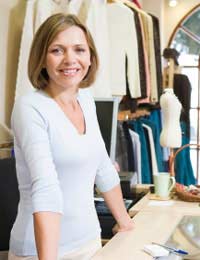 Retail management offers a demanding yet worthwhile vocation. It is a sector of the retail industry where competition is high, with many people changing jobs relatively frequently, so headhunting is rife and opportunities come up regularly.
While it is possible to start a retail management career on a graduate training scheme and work your way up the career ladder in the same organisation, most retail managers have worked for a few different stores. It's common, therefore, to see a retail manager's CV showing a company change every two to five years especially within similar sectors.
Job Description
A retail manager will be responsible for the day-to-day smooth running of their store, with input from senior managers and regional managers. Working to their employer's targets and policies, it is up to the retail manager to ensure his or her team maximises profit while cutting costs wherever possible. The target-driven environment can be stressful, although the commission can help compensate for this.
A retail manager will often make up part of a wider management team, including IT, HR, logistics and buying managers. The team will have regular meetings – usually weekly, with monthly and quarterly meetings to define and set targets for sales and profits.
Although a retail manager will usually work relatively 'normal' hours, with very little travel, the increase in out-of-town shopping outlets and late night shopping means that the working hours are getting longer. Most retail managers will have one or two days off each week, although this will very rarely be a Saturday. Over Christmas, sales and important times of the year, it is usual to have only one day off each week, or time off in lieu.
Skills Required
A retail manager has to be driven to succeed and capable of motivating others to succeed. As this is a customer-facing role, they must also be able to deal effectively with customers, especially those complaining or causing difficulty.
A good retail manager will be able to come up with ideas to promote the store. Even though most retail chains will decide on Promotions And Events decided centrally, it will ultimately be the retail manager's job to get behind the idea and promote it to local staff.
Pay and Conditions
Starting salaries for retail managers are around £20,000 for high street names, but can be lower for smaller companies. An experienced retail manager can expect to earn around £30,000 after at least five years' experience, although commission, benefits and incentives can take this considerably higher. Highly sought-after managers can be offered upwards of £60,000 if they are
Headhunted
, but this will include reaching very high targets. Share options may also be offered as part of the package, as well as more sociable working hours with more days off. Incentives will often include trips, holidays and activity days, with retail managers of clothing stores being given excellent discounts for stores across their organisation.
Find out More
See more information on the careers available within the retail industry, read our article
Types Of Retail Jobs
.
You might also like...