Becoming a Visual Merchandiser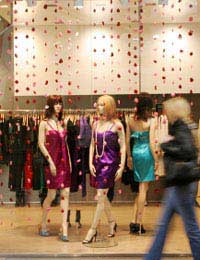 Visual merchandising is an increasingly important aspect of the retail sector as companies battle for their customers' hard-earned money. As our high streets face competition from bigger, brighter stores and online shopping, the look of a store is a key element to its brand identity and potential success.
Employed Visual Merchandising Roles
Working as a visual merchandiser is a coveted role in
Retail
, with fewer jobs available than willing candidates. All the major chains and department stores employ visual merchandising teams (known as VM) and competition is fierce for each position.
The main responsibility of the visual merchandiser is to create and control the look of the store, by maximising the visual appeal of the products in order to promote sales. Most retail chains create standardised looks for their windows, layouts and in-store displays, with a number of seasonal variations. There are also often regional variations which are decided by analysing data from the stores across different regions to see what products or types of products sell well. Regional trends and seasonal demands play a huge factor in the role of a visual merchandiser and it is this understanding that marks out a successful VM. Creativity also plays a major part, although it must always be tempered with commercial thinking.
Most visual merchandisers have gained some form of further education, although there are very few dedicated degree courses, so HNDs in creative subjects or Retail Management are popular backgrounds.
Junior visual merchandisers often start on the retail organisations' graduate training schemes, although there are rarely positions open in this specific area. Many begin in other areas of the retail sector and hope for an internal position to become available. It is worth getting involved with visual merchandising opportunities wherever possible, such as helping out at Christmas, in order to add experience to your CV.
Starting salaries are generally around £18,000, with steady increments leading to around £25,000 after 4-5 years experience. Senior VMs with a history of adding value to the store at key times can command salaries of around £40,000 to £50,000.
Freelance Visual Merchandising Roles
There is also a large number of
Freelance
visual merchandisers in the retail industry, some of whom are able to command high fees as their work has gained excellent results. For the many freelancers working on less coveted projects, the chance to build a portfolio is welcomed, although even the major stores often employ freelancers at Christmas. The best way to be in with a chance to be considered for these projects is to register with dedicated retail design agencies, usually in central London, and ensure that you have contacted the visual merchandising teams at stores such as Selfridges and Liberty.
Hourly rates can vary enormously, depending on your experience and reputation. Junior freelancers can expect around £12-£18 per hour, with daily rates of £75-£125 common. Senior visual merchandisers can command around £30 per hour. If you manage to gain a reputation for excellence in your field, the sky is the limit, with some stores keen to increase publicity for their store, particularly at Christmas, by using a known 'name'.
More Retail Opportunities
For more information and advice on the type of careers that are available in the retail industry, visit our
Retail Sector
category of this site.
You might also like...
Hi! I would like to start a career in VM.I have some experiences in the field and I sent a lot of cv without any reply. Could you please give a list of good schools where it is possible to study VM and have good chances for internship after the course? Thanks!
michelle vianne
- 5-Jun-12 @ 6:29 PM