Working in the Fashion Industry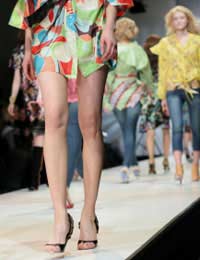 There are so many careers available for those wanting to work in the fashion industry, and the ones you know about are just the tip of the iceberg. Being a supermodel is far less likely (for most of us) than working in fashion retail, behind the scenes for a designer or in fashion PR – unless you happen to be stick thin, beautiful and at least 5ft 9", that is!
Anyone that's seen the movie The Devil Wears Prada will know that fashion is a fast-paced, highly competitive industry. Even though that's a film, the industry itself is often considered pretty far fetched. It really does attract creative, flamboyant types, as well as those who love to be involved in the glamorous world of fashion.
Who You Know Not What You Know
Fashion is certainly one of those industries where who you know has a huge impact on your career potential. After all, would Stella McCartney be such a successful fashion designer if she didn't have a Beatle for a dad and Kate Moss modelling her graduate fashion show? You need to commit to
Building Your Network Of Contacts
if you want to succeed in fashion because, even though it can be seen as fickle business, it's a business none the less and being 'in' is terribly important to your potential accomplishment.
The vast range of jobs available in the fashion industry are all connected by a similar passion – a love of clothes, beauty and glamour. Most people that work in the industry have this at their core, even though many of the jobs are far from glamorous. Unless you have the most amazing contacts book, you will probably have to start right at the bottom, either as a runner/dogsbody for a designer, a junior in a model agency, or an assistant's assistant to a stylist, photographer or make-up artist.
The types of people that succeed at the bottom and manage to work their way up tend to be those with no sense of entitlement, yet are prepared to work very, very hard. After all, even the most menial roles in the fashion industry are highly coveted, so you have to be prepared to give it your all. That doesn't mean that you have to put up with anything, but you do have to get stuck in without thinking that just because you have a 'degree in fashion' you should start your fashion career as a top designer.
Is a Fashion Degree Worth It?
The subject of further education for young people who want to work in the fashion industry is a contentious one. Much as 'having a degree' is widely considered to be a good thing, it can also leave young people hideously in debt and with no greater chance of gaining employment at the end of it. Working in fashion is nothing like
Working In Law
,
Teaching
or
Medicine
, for example, where there is a clear career path. Succeeding in the fashion industry takes guile, confidence and a little bit of luck, so having a degree can actually put you behind your competitors who got the cheapest Camden rent they could find, worked for free on fashion shoots, and built up their network of contacts before you'd even finished your second year at university.
Textiles and Dressmaking
If you'd like to use your creative and design skills to move into the fashion world, the are many opportunities for people skilled at textiles and dressmaking. Find out more in our guide to
Textile and Dressmaking Careers
.
You might also like...
I'm sixteen years of age, and I'm very set on working within fashion as a career. I'm contemplating whether or not to go on and take fashion at a-level and then at university, as you stated the reasons above in the fashion degree section. I am just wondering if it is worth going to university to still be a success within fashion in the future.
luce
- 17-Mar-11 @ 7:04 PM