Motivating Yourself When Working from Home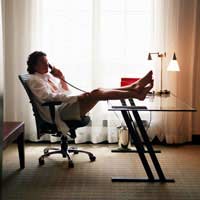 Although you may think that working from home will be loads easier that having to be at the office for a certain time every morning because you can be the master of your own diary and pop loads of washing in at the same time as answering emails, the truth is that it takes supreme effort to be motivated to work from home.
Yes, there are huge benefits to working from home. You can put dinner on in the afternoon so you don't have to resort to ready meals or eating at 9pm, and you can usually find a doctor's or dentist appointment, but you also have friends and family phoning you for a chat with no idea that you might be busy. And then there's the tricky little issue of motivation. Here are some suggestions for motivating yourself when working from home so you get to enjoy the benefits.
Domestic Tasks Before or After Work?
There is no real right or wrong answer to this tricky element of working from home, but it is one that you need to think about for your career change to be a success. It really depends on the type of person you are, so think about that first.
Some people find it very hard to concentrate on working at home when they can see domestic tasks around them – a load of washing to be put on, the dishes left from breakfast or a casserole to be put in the oven – and prefer to do their tasks before starting work. For others, they're better at working first and completing tasks afterwards.
Now, there's a fine line between getting on with the domestic tasks and procrastination, so the best way to maintain motivation is to set aside an hour or so each day – either at the beginning or the end depending on how you work best – to get the tasks out of the way. This will stop you either wasting too much time on chores before you get working, or sitting unable to concentrate because you have lots of tasks around you.
A Clear Work Space
If you are lucky enough to have a separate office or study to work in from home, make sure you use it. If you don't, arrange a space in the house that's designated as your office and set it up so there is everything you need within easy reach. This usually means a desk, phone, power supplies, any files you need and a decent spotlight at the very minimum.
Keep the room clean and organised – do not allow it to become messy or you will not be able to work effectively. If you find it too untidy, set aside a morning to clean it up and rearrange your paperwork. Keep the room just for work and you should find that you feel motivated there.
Set Clear Deadlines
Setting clear deadlines is not just about the work deadlines you need to keep to make sure you get paid, it's about deadlines you set for yourself throughout the day. It's a core reason why working from home is often harder than working in an office – there, you usually have clearly defined 'breaks' and 'tasks', like a set time for your lunch break, your coffee break, how long a certain task should take and so on. Copy this way of working when you're at home, too and you will achieve more in a day.
The Internet
Perhaps motivation when working from home was not such an issue before the internet! With most people working at a laptop or PC, the lure of a juicy internet shopping site or gossip blog is sometimes too strong, especially when the alternative is a rather dry task. The best way to minimise the time you 'waste' on the internet is to assign looking at your favourite sites to set break times and don't have an email or news notification pop up unless you absolutely have to for your work – it eats motivation and whole days can be lost!
Working For Yourself
While setting up your own business isn't for everyone, for many it provides the perfect career solution.
Click Here
to find out about the pros and cons of working for yourself.
You might also like...