How to Get Into Project Management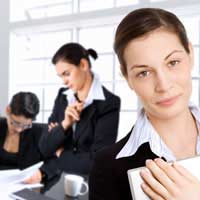 If you're currently a manager, perhaps you've considered project management as an alternative use of your management skills. Moving from a hierarchical Management Role, which is usually an on-going role that manages a function and/or people, into project management, is certainly possible. The biggest difference is that managers maintain the current situation in keeping the business running, while project managers bring about change. Project management is typically more volatile and as projects only exist for a defined period, once a project is completed the project manager needs a new project.
Typical Skills For Project Management
Planner
– Project managers need to be well organised and enjoy planning work. The role demands the ability to look forward into the future and make plans and decisions for the best possible outcome. While the job will undoubtedly involve some fire-fighting, a good project manager is focused on future events and not going from one crisis to another.
Decision-Maker – Projects are about change; they bring about new and often unknown ways of working. Because of this, a project manager can be faced with making decisions they have never made before. Projects can be high-risk endeavours and, while the rewards can be great if all goes well, if all goes bad the project manager can wear much of the blame.
Networker – Project Managers do not usually exist in the standard hierarchical structure of an organisation. The role exists for the duration of the project and the project management structure is a temporary arrangement that typically stands aside from the company hierarchy. A project manager does not have the usual hierarchical management levels to rely on. They must use their influencing skills to make things happen.
People Manager – Surely project managers manage the people on their projects just like any people manager? Where projects have people fully assigned to the project, a project manager fulfils many of the people management activities. However, if people are only partly assigned to a project, the project manager may find himself or herself in the situation where they have little management responsibility over the people who contribute to the project. Such cases require strong Networking and influencing skills.
Recommended Training To Prepare For The Role Of Project Manager
Project Management methodology – Prince2 is the most common project management certification in the UK
Project Management training and ability to use software packages, such as Microsoft Project
Change Management training
Presentation skills
Communication skills
Networking skills – there are associations to become a member of if you have the right qualifications, such as the PMI (Project management institute) and the APM (Association for Project Management)
Considerations For Becoming A Project Manager
Project management is a high-risk activity and as can, at times, be high stress.
Because projects bring about change they encounter the unknown. Decision-making can often be difficult when there is no previous experience to look back on.
There is usually no formal organisational structure to fall back on to make things happen. It is the ability of the project manager to network and influence well that will get things done.
Project managers are highly dependent on their team. Project managers manage the project, while the team do the work! Therefore, they need strong people skills to get the best from their team.
While project management is a career, there is always the uncertainty, and excitement, of what comes after the current project is implemented.
Manager To Project Manager: A Case Study
Geoffrey had worked in Human Resources for 20 years and had extensive experience in Human Resource Management and managing people. He had worked on a number of projects as a HR advisor and thoroughly enjoyed the experience. He'd watched the project manager closely and thought it was something he could have a go at.
He first decided to gain more experience on projects and asked if he could be assigned onto a project on a full-time capacity, so that he could see first-hand how a project worked on a day-to-day basis. When a HR project came up, Geoffrey was a prime candidate to work as a senior analyst on the project, and in this role he worked closely with the project manager.
Geoffrey discussed his ambitions with the project manager, who was happy to involve him in some of the planning activities. At the same time, Geoffrey attended the in-house training for project management so that he better understood the processes they needed to follow. After the experience of working as an analyst full-time on a project, combined with his project management training, he was able to take the step of moving into project management and taking on his first project.
You might also like...