How To Get Into Management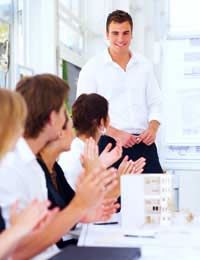 Sometimes it feels like the only way to move upward in a career, and to earn more money, is to consider a role in management. Management roles are not for everyone, though, so it's important to consider why you want to move into this position and to ensure that it's the right choice for you.
Typical Skills For Management
People Management
– Typically, most management roles involve managing people. Human Resource management can be time-consuming and often difficult, for example, and some managers feel frustrated that managing staff takes time away from doing other work that they need to do. That said, when done well the role is very rewarding and reaps many benefits.
Team Player – A manager needs to motivate their team to be their best. A manager's success is through the success of their people; there is little place in management for solo achievements.
Networking – Success in management can often come down to how well you can Network and can effectively negotiate and influence others. To do well as a manager you need to build strong relationship with others in the management team, and build up a reputation as a reliable and competent manager.
Flexible – As a manager, it can often be very difficult to predict what a day will involve. Despite best efforts in planning, managers can very quickly find themselves thrown into managing a very different situation than anticipated because of an immediate issue that needs resolving. A manager needs to be able to react quickly and be able to move focus to what is most urgent.
Recommended Training To Prepare For The Role Of Manager
Management training
Management styles training
Coaching skills
Human Resource management
Considerations For Becoming A Manager
Would moving into management open up other career opportunities for you? Is this the long-term career direction that you want to head?
Do you enjoy managing people and dealing with the more human resource related issues?
Are you happy to let others do the work while you plan and oversee the activities?
Are you competent at building up an effective network of working relationships?
Are you considering a management role purely for financial reasons? Are there other opportunities where you could have a career change and earn more, without moving into management, if it is not the role for you?
Manager: A Case Study
Louise had worked as a technical writer for 15 years and as a senior writer for the past five. She realised that there was no where else for her to go in her career unless she tried management. When her manager decided to move on, Louise took the opportunity of stepping into her shoes, becoming the manager of the technical writing function. It was an area she technically understood very well, but she had very little experience in management. At first she struggled, but she quickly realised that she was still trying to hang onto her old job and actually do the work.
After some management training, Louise was able to step back and allow her team to do the work, while she focused on planning the upcoming tasks and building up the reputation of the team within the organisation.
You might also like...
Management is the main part of the organisation and 360 degree feedback is the main highway to grow the business by implementing 360 degree appraisals performance to maintain the management.
360 degree feedback
- 28-Jul-11 @ 12:50 PM