How to Finance a Career Change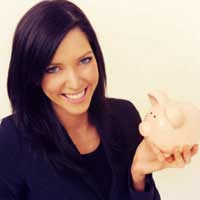 Once you've decided that you're ready for a career change, and you've identified what you want to do, you may find that the shift also involves a pay cut. In most cases, the drop in pay is temporary, but it is very real. Perhaps it will take time for you to learn new skills, and there may be a Training Period during which you'll be trying to understand new job requirements. In most cases, however, your salary will recover to and probably surpass former levels. So it's important to view the situation not as a cut in pay, but as a necessary investment in a new career.
Financing Freelancing
Differences in monthly income can be especially severe if you are changing to a
Freelance Arrangement
or starting your own business. Keeping things on an even keel will require some work ahead of time. Make sure you have an emergency fund in savings. The best case would be to have enough to cover six to eight months of your necessities.
Sometimes it's possible to begin doing some freelance work or business building on the side as you prepare for the change. Don't burn any bridges as you prepare to leave your old place of employment, particularly if you're going freelance.
You should consider whether Starting Your Own Business requires any extra expenses you aren't paying now. If, for example, you plan on Working Out Of Your Home, your insurance cover may need to be amended.
Your car's insurance premium may also changes due to extra mileage or different usage; you must be protected by the correct insurance if your car suddenly changes from social to commuting or commercial use. It's not a reason to forgo the career change, but it's something that should think about. You should also keep in mind that certain careers require additional insurance, like professional liability insurance or errors and omissions insurance.
Planning Ahead
Another requirement when you're starting your own business is the creation of a business plan. You may think about skipping this process if you don't intend to borrow money or find investors, but it is a critical step in any business. You must know where you are, where you are going, and how you intend to get there. A business plan helps you realistically assess costs and project profits, and will serve as a guide to how much salary you can take and how much must be reinvested.
If you've progressed at all in your present career, you can almost count on facing a gap between your current pay and your new income. The question is, how big is the gap and how long will it exist? Is your new career choice still your first career choice even with a gap.
Taking a pay cut as a result of a career change could certainly prove to be a psychological blow, but if you've done your research well, you should be taking up new work about which you are passionate. We all tend to do those things that we like better than things we don't, but better performance at work should result in success – and ultimately success should add to your income.
Another thing to consider is that doing what you love on a daily basis reduces stress, and lower stress levels generally mean better health. So if your new career or business makes you happier and healthier, what's a little pay cut?
Borrowing From Family
Some people accept loans from friends and family to finance their career change. Find out if this could work for you by reading our article
Can You Afford To Borrow From Friends and Family
.
You might also like...
@Dave, not sure if there's anything specific related to health and safety, but there are bursaries available for adult learning.
Information is here
.
ACareerChange
- 2-Apr-15 @ 10:03 AM
I am currently in engineering in the Telecoms sector, but I would like to peruse a career in Health and Safety, RoSPA, IOSH etc. I would like to know is there any government funding for this type of career change?
Dave
- 30-Mar-15 @ 11:07 AM
Can I get some help with nursing course.
I want to become a nurse in gp surgery so I want a beginners training and degree. Can you please let me know which is the best course.Thank you.
Hi there, This is a great article what i was searching on career changr. I am pretty much impressed with your good work. You put really very helpful information.
careerguidance143
- 14-Dec-11 @ 12:29 PM