Top Tips For Cutting Career Change Costs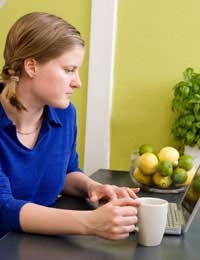 Starting a new career can be an expensive business, but it needn't cost a fortune. These cost-cutting tips have been devised to help your new venture make the right first impression without breaking the bank.
Working From Home
If you can start your new career from home, you'll save a fortune in rent and bills on an office or shop. You are also likely to be able to claim a proportion of your mortgage and bills, including broadband, on your tax bill, although you must get expert advice on your individual circumstances.
Working From Home means that you are not spending money on commuting, which can be a pretty big sum. You will, however, have to bear in mind the added price of heating and lighting your home during the day.
Operating your business from home will allow you to save money on food, too. Instead of buying lunchtime sandwiches or evening ready meals, you'll have more time to rustle up a sandwich or put on a cheap and tasty stew in the daytime.
Meeting Clients
You don't need to pay for an office just to meet the odd client. Don't let your ego talk you out of working from home if you possibly can. These days many professional people meet up with clients in places other than the office.
First, choose somewhere on neutral territory. Check where your client is based, then suggest a coffee shop or hotel lobby that's either near their base or yours, depending on the type of relationship you have. It's advisable to stick to known brands as they are easier to find, plus they will better 'represent you' as you can usually be guaranteed a good service.
You can still buy the coffees and cakes when you meet clients, as they'll probably be tax deductible and will still cost you far less than hiring an office for the day.
Use Free Resources
There are all manner of excellent free resources out there for people wanting to make a career change – and the best thing is you'll often meet valuable like-minded people, too!
Don't shy away from using free resources. One positive to come out of the global economic crisis is the realisation that we've been wasting stuff just for the sake of it. So why not seek out evening classes in Basic Maths, or starting an online business or setting up a website – whatever is most appropriate to you. You never know who you'll meet and it could be really helpful to your business.
Ask For Advice
Pretty much everybody likes being asked for their opinion, so why not harness that and ask people how they can help you? Try speaking to your local business bank manager to see what advice they have on starting a new business, or retraining. Alternatively, go to your local university to find out what career advice they have for students that you could access.
Another suggestion is to find a mentor. A Mentor is a person who can offer career guidance to you. It's a well-known win-win situation in that the mentor gets to use their knowledge to help you, and you learn from someone more experienced. There is also the benefit of gaining access to their network of contacts! All you have to do is go online and research the experts in your new field, if you don't know of them already, and give them a ring. Don't forget that it's flattering to be asked your opinion, so just start by asking to meet for a coffee to pick their brains. Good luck!
You might also like...