A Career in Fitness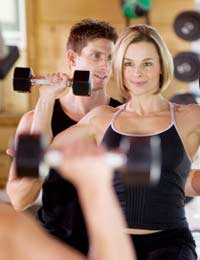 Do you believe that staying in shape is important? Do you get plenty of physical exercise at your current job? The increasing number of people who answer 'yes' to the first question, and 'no' to the second has fuelled the growth of an entire industry of personal fitness. As more and more people make time to go to the gym every evening to stay in shape and maintain their health, there is greater demand for fitness professionals who can help them achieve their goals in the shortest possible time.
If you are active, enthusiastic and enjoy motivating and instructing others, a career in fitness might work out well for you. And if you're looking for a career change, it's possible to prepare for many fitness jobs in your Spare Time.
Becoming a Personal Trainer
Personal trainers work one-on-one with clients to help them achieve their personal health and fitness goals. As a personal trainer, your typical activities would include consulting with clients, setting fitness goals, educating and motivating them during workout sessions and monitoring progress. Some personal trainers choose to work independently on a self-employed basis, while others are employed by a gym or health club. The health club may be part of a large national chain, or connected with a resort, spa or even a cruise ship.
A career in fitness as a personal trainer requires qualification with the Register of Exercise Professionals (www.exerciseregister.org). You can learn what you need to know through independent study or by taking college courses in exercise and sports sciences. Regardless of how you choose to learn, you'll be required to prove your expertise by achieving NVQ Level 3 qualification in Instructing Physical Activity and Exercise.
In addition to your knowledge of anatomy, physiology and nutrition, you will need to be trained to provide first aid including CPR. You'll find the job more enjoyable and be more successful if you have excellent communication skills and an outgoing, positive personality. Concerning working hours, get ready to be flexible because they'll need to suit the needs of your clients. This means you'll likely be working on weekends and during the evenings.
A Variety of Other Career Opportunities
Another career in the fitness industry you might consider is group instruction. This can involve a number of job opportunities, such as being a Pilates teacher or yoga instructor. It's possible you could work with clients on a one-on-one basis, but it's more likely that you'll be working with groups of up to 12 people. You'll need to be well-versed in putting together appropriate exercise sequences, and becoming an instructor is usually easier if you've taken the courses yourself in the past. You'll need to obtain an NVQ in instructing Health and Fitness qualification of at least Level 2 standard. The most essential personal qualities include an infectious enthusiasm and the ability to motivate both groups and individuals.
Running Your Own Business
There are plenty of fitness careers that take place outside of the gym – you could set up your own business running boot camps, for example. This is becoming extremely popular lately and can be started with basic equipment. You will need lots of motivational skills, but you will be able to charge between £4 and £15 per person for an hour – in groups of 10 to 20, so it can be quite lucrative.
If you enjoy a specific sport or fitness activity, you could consider setting up a business running holidays or weekend breaks indulging in that activity, such as canoeing, hiking trails, or cycling holidays, just as Dan in one of our Success Stories did.
Another example of a fitness-related career outside of the gym could be becoming a horse riding teacher – an especially good choice if you enjoy spending time outdoors and working with animals. You can gain the skills and knowledge you need through an apprenticeship scheme, taking college classes or attending riding school. Regardless of your training path, you will eventually need to qualify with the BHS (British Horse Society) or ABRS (Association of British Riding Schools). You might want to keep in mind that BHS qualification requires membership and a written exam, while the ABRS non-written, practical exam is open to anyone.
If you're interested in a career change to the world of fitness, there are many opportunities from which to choose. Almost all positions require a qualification of some sort, but you have the freedom to decide on your own how to accomplish your training. If you enjoy being active and you're good at motivating others to join you, then why not Turn Your Hobby Into A New Career In Fitness.
You might also like...
Hello I am interested in being a personal trainer or fitness trainer of any type
lill
- 25-Jun-15 @ 2:10 PM