Starting up a Coffee Shop, Restaurant or Bar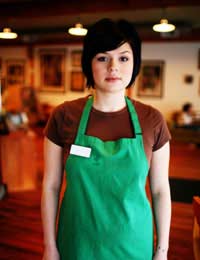 Starting up a coffee shop, restaurant or bar from scratch is a long and complicated process. There are many factors that have to be taken into account, such as regulations like health and safety, fire safety, finances and franchising, right through to customer demographics and finding the right equipment to suit your needs. But if you get these details right at the start, it'll make all the difference in the successful Running Of Your New Business. Here we summarise some of the fundamental considerations and skills that you'll need in order to make this sort of career change.
Have You Got the Skills?
This is one very important question that you have to ask yourself. Starting up a successful coffee shop/café/sandwich bar, restaurant or bar will require long hours of work and even a very limited income to begin with, as competition in this sector is stiff.
For this reason you'll need to be physically fit and able to work in pressurised situations. In many cases, you'll be handling a lot of the finances yourself: premises renovation, refurbishing costs, wages, payments for suppliers and, of course, daily takings – so your numeric skills will have to be top notch.
If you need Capital To Start Your Venture, you will also have to draw up a viable business plan in order to secure a loan. The most obvious lender is a bank, so your financial projections must be realistic and supported with research and evidence. A good business plan will also demonstrate that you have sound business acumen, which will in turn inspire confidence in your lender.
If you plump for a non-franchise business, or don't want to use tie-in suppliers, it'll also be beneficial to have strong negotiation skills to secure the best possible deals on your provisions and goods, whether they're food, drinks or even equipment.
It is also advantageous to have good marketing skills, as well as fantastic interpersonal and communication skills. Marketing skills will help you to best identify your demographic, as well as enabling you to successfully publicise your business venture. Communication skills are a vital component of good customer service, as well as an important tool in business dealings.
Financial Considerations
Before you dive headfirst into a career change, you might want to consider the fundamental financial considerations of running a coffee house, restaurant or bar.
Aside from the food and drink aspect, you'll also have to get to grips with how much capital you'll need to start up in the first place. For instance, a renovation or refurbishment of your business premises can be a major financial consideration. If you opt to run as part of a franchise, you will have to adhere to specific designs, which means that financially you might not be able to cut corners and make savings.
Also, having the right equipment and ensuring that your premises complies with health and safety and fire regulations may cost you extra if you have to make alterations to the premises. You should also be aware that as you will be open to the public, you might have to take out an insurance policy, which can cost a considerable sum of money.
You should also consider the cost of buying or renting a business premises, especially during refurbishment. Unless you've been able to buy premises outright or an establishment that can be taken over immediately, for each month that you are not open you'll still have to pay mortgage or rental fees. Put financial contingency arrangements in place, in case your establishment takes time to build up steady, profitable business. Be aware that you may not be able to draw a salary for a while, especially if you are having to pay other staff, such as waiters, barmen, customer service assistants, as well as solicitors or accountants.
Finally, you will need to register your business with HM Revenue and Customs. Your legal form (i.e. sole trader or limited company) will affect your taxation and account keeping.
Understanding Legal Issues
Running a coffee house, café or restaurant will definitely require becoming more than familiar with certain regulations, legislation and taxation. At some point you will be subjected to a health and safety inspection, as well as grounds safety and fire risk assessments, so you must make sure that you are able to both understand and implement these regulations.
You will also have to acquire knowledge of food safety. This can be quite complicated and involved, but there are ways to obtain food safety and hygiene certificates with relative ease. There is also the issue of licensing, which is particularly pertinent in regards to serving and selling alcoholic drinks. The British Institute of Innkeepers can point you to relevant courses and offer advice relevant to your hospitality venture.
Setting up a restaurant, bar or coffee house may seem a daunting task, but if you have the passion and motivation to make it work, as well as a healthy dose of business acumen, then the chances are that your business venture will succeed!
Catering Career
Are you interested in a career in catering? Read
Our Guide
to learn about the many different job opportunities and training schemes that are available.
You might also like...