How to Become a Wedding Planner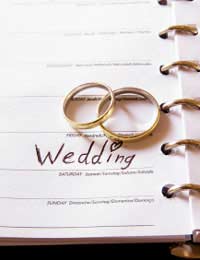 As there are no officially-recognised wedding planner qualifications or certificates, it is a job which you gain through relevant skills, expertise and hard work.
The role of a wedding planner is essentially a modern one but has been popular in the US for many years. As so many working people have very busy lives but still want to have the wedding day of their dreams, recruiting the services of a wedding planner is a great way to coordinate what is really a big party!
If you are thinking of changing career to become a wedding planner, you will need to be honest about your skills and experience in order to appreciate whether this is a positive move. Here are a few ideas for ways to gain the relevant skills, experience and business exposure – you won't need to do them all to change career, rather see what best suits your character and circumstances.
Events Organisation
Many wedding planners, who are often
Self-Employed
, start their careers working in
Events Planning And Organisation
. This is often with a dedicated company, or a PR company. Either way, it's a great way to learn the fundamental skills required, such as high attention to detail, the ability to make people do things for you, building contacts in all sorts of random places, and being able to deal with situations when something goes wrong.
Starting in events organisation is also practical because there are often junior roles available (although the competition can be stiff) and you will be getting paid while learning skills. Just don't say at the interview that you're planning to leave soon to be a wedding planner!
Working for a Large Hotel
Many large hotels now employ wedding planners, either self-employed on a case-by-case basis, or as part of their own in-house events team. Although you may not have the right skills needed to take the top job yet, starting at the bottom will enable you to pick up tips and gain experience. Don't forget, if you find a hotel that you'd love to work at, it's often easier to start work as a waitress and show your passion for wedding planning, then you'll be in the right place when an opportunity does come up and you'll have already shown your commitment to the boss.
Staring Your Own Business
Although this may sound like a massive leap of faith, sometimes that is the best way to make things happen. If you're passionate about changing career to work as a wedding planner, and are truly realistic about the hard work and sheer stress you'll need to go through to make a success of it, then maybe you should just go for it!
There is a number of Government Support Initiatives available for small businesses. Be savvy and make sure you apply for every training course, every grant and every scheme possible!
You'll have to get a website – make sure it represents the type of service you want to offer – and start to promote it at appropriate places, such as in wedding magazines, lifestyle websites and forums. Wedding fairs are also a great place to go to gain local business, although they are terribly competitive.
If you do choose to start your own wedding planning business, you'll be spending most of your time Networking and building your business. Make sure you get recommendations and offer to plan a friend or family member's wedding for free (or very little) so you've got your first job, then you can use the pictures etc to launch your marketing campaign.
Promoting Yourself
For help and advice on the best ways to promote your own new business, read our article
How To Be Your Own PR
.
You might also like...
Hello, I am 32 I left school had my 4 children so havent done anything for a career , ive had a cleaning job but thats about it. Id love to get my grades , gcse, s to become a air hostess. Am I to old to to try and do this , ive always wanted to do this as child but things dont sometimes go to plan althou I do treasure my children. If anyone could help me that would be great thank you.
denese
- 23-Feb-17 @ 4:03 PM
I have been a health carer for 10 yes, Pryer to thatI was a waitress, I have good communication skills , lots of patience. I think all my skills must be relevant to my new path of life
angel
- 17-Jul-16 @ 1:46 PM
I would like to seek advice on a new career path. Am interested in becoming a venue promoter for events such as weddings, bridal shower,corporate events etc. I need advice on how to go about it, how do I start up, what are the things I need to know in general.
Mia
- 10-Apr-16 @ 12:50 PM
@K. That's a great ambition. Talk to other events planners and make some connections with all the local suppliers...dresses, flowers, venues, photographers etc. There are some useful links on
this page
. We hope the above article helps too. Good luck
ACareerChange
- 26-Feb-15 @ 1:51 PM
Hi I live in Middlesbrough and I just wondering about becoming a wedding planner, I have good communication skills and good with computers, and Love socialising with people.....
I am wanting to study for a wedding planner, please can you tell me how much it cost and can I do it without a computer.
musky
- 11-Jul-12 @ 2:16 PM