Running a Bed & Breakfast or Hotel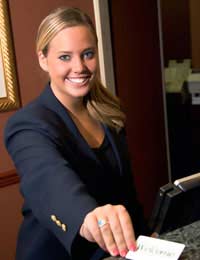 The UK is brimming with tourist attractions and holiday getaways, which means that the hospitality business is a steadfast sector in which to work. If you've ever had designs on running your own bed & breakfast, or think that a career in hospitality is for you, perhaps it's time to see if you've really got what it takes to make the change.
Running Your Own B&B
Running a bed and breakfast (B&B) is hard work, but brings with it many benefits and rewards. For instance, you are often able to choose how many hours, days or weeks a year you work. You'll also have the chance to meet lots of interesting people.
But before you open your doors to tourists, holidaymaker's and businessmen, there are a few fundamental considerations you'll have to make to rectify whether you have what it takes to run your own bed and breakfast.
The first consideration is whether you are physically fit enough to run your own establishment. Unless you're lucky enough to employ a cleaner or housekeeping staff, you may have to undertake daily chores for not only your living quarters, but to a high standard in your guest's quarters. Housekeeping skills will have to be impressive! Daily chores will most likely include tasks such as cleaning, cooking and laundry. Your working hours may also be long, with early starts to ensure breakfast meals are ready, often during weekends as well as festive and bank holidays.
You will also have to take into account your personal skills, as you may be playing host in your own home to people with difficult or challenging personalities! Diplomacy, patience, politeness and confidence are all beneficial qualities when running your own B&B. Your hospitality skills will have to include meeting and greeting, dealing with any problems or enquiries, taking bookings, handling fees, as well as a high-quality culinary skills.
Business and Regulations
Inevitably, running a B&B will mean that you'll be handling the business, finance and marketing side of things. You'll need to understand your demographic and its requirements, as well as ways to obtain star rating awards. You'll also need to have sound IT skills to help you keep on top of Internet marketing, your accounts, bookings and general business administration.
You should also make yourself aware of the implications of opening your home to the public – there are stringent legal requirements that you'll have to adhere to. These include fire risk assessments, food hygiene and health & safety audits. You may also have to take into consideration aspects of the Disability Discrimination Act. The 'Pink Booklet' is available to help you understand why and how you can comply with the relevant legislation.
If you require some venture capital, then you'll have to formulate a business plan to approach your lender (usually a bank) with. To devise a viable business plan, you'll need to have undertaken relevant research, present evidence to back up your financial projections, which will include setting realistic prices and anticipating outgoings. You may need to enlist the help of an accountant, which will add to start up and running costs of your B&B.
If you're generally a friendly and confident person, and you think you can take on all the different challenging aspects of running a bed and breakfast, then you are already on the road to making a viable lifestyle and career change.
Career Change – Hotel Manager
If you'd like to work in hospitality, but want more distance between work and home, perhaps you've considered working as a hotel manager. In smaller hotels, a manager will usually be responsible for overseeing all aspects of the running of the hotel, from finances and staff supervision to dealing with issues such as security, buildings maintenance, regulations and licensing.
Managers often help out in dining room restaurants and bar areas during the quieter periods, usually during the day. You may also have the opportunity to live in-house. In larger hotels and hotel chains, managers may be responsible for just one aspect of the running of the hotel, and work under the supervision of a general manager. Hotel chain managers are often expected to deal with the larger corporate clients, conferences and entertainment bookings.
Personal Skills and Qualifications
Because of the diverse nature of managing a hotel, you'll need to have the
Appropriate Skills
to help you successfully carry out your job roles. You'll be dealing with customers and clients, so your communication, tact and mediation skills must be well honed, and your motivation and enthusiasm clear to see. You'll also need organisational skills, as well as some business acumen. You may be working under pressure and in a constantly busy environment, so you must be able to problem solve quickly and stay level-headed in difficult situations.
To work in a senior position in a hotel in a role such as manager, you may be able to start at a more junior level and work your way towards a managerial position. However, the chances are that you'll need to have either relevant employment experience (such as marketing) where you have demonstrated that you have all the skills to undertake this role, or an appropriate qualification.
There are many hospitality qualifications available, allowing you to pick and choose your method of study. For instance, you can undertake a full-time pertinent degree, BTEC HNC/HND or postgraduate course, and apply for management jobs once you've graduated. Alternatively, you can undertake a two-year hospitality-related foundation degree course that will allow you to work and support yourself in your free time in relevant employment.
Further Reading
Find out about other careers in the hospitality industry by visiting our
Leisure and Hospitality Category
of this site.
You might also like...
Sandy - Your Question:
I'm on the first step to changing my career, running a B&B is what I'd like to do 5 years from now when the kids have flown the nest (hopefully)So, I have 5 years to do lots of research and to look at the financials. Sites such as this are a really helpful starting point
---
Our Response:
That's great, we hope the site helps and you are successful.
ACareerChange
- 30-May-17 @ 2:19 PM
I'm on the first step to changing my career, running a B&B is what I'd like to do 5 years from now when the kids have flown the nest (hopefully) So, I have 5 years to do lots of research and to look at the financials. Sites such as this are a really helpful starting point
Sandy
- 28-May-17 @ 11:49 AM