Becoming a Firefighter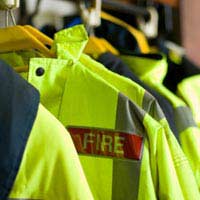 Becoming a firefighter is one of those childhood dreams, along with being a ballet dancer or playing for England. A firefighter ('fireman' is no longer the correct term) has a responsible, demanding job as a protector of the community, but it may not be as exciting as those childhood dreams had us believe, with only one in five callouts being fire-related.
The remaining four can be anything from rescuing an animal that is stuck up a tree, to a request to speak at a community event about keeping homes and businesses safe. Consequently, a firefighter needs to be able to deal with a wide variety of situations in an appropriate manner, so confident, open-minded and approachable people are most suited to this role.
Working Conditions
The variety of situations a firefighter may find him or herself in, include rescuing people, property and animals from accidents, fires and disasters. They are often called to road traffic accidents, floods, rail accidents and spillages of hazardous chemicals and waste.
The role of a firefighter is also that of community champion, with regular requirements to present fire safety at schools, community groups, clubs such as Brownies, and fun days. The local fire station may also have open days, with presentations of the equipment and fire drills.
Most fire stations work in six man crews, with 24-hour a day shift work. The teams are required to work closely together, so building camaraderie is an important element of the work. The shift work means that there are usually kitchen facilities at the station, with the firefighters sharing cooking duties on their shift, while being prepared for rapid response call outs at any time. This means it can be a highly-charged atmosphere, with stress-related issues relatively common, especially for those with family commitments, so this is not a career to be taken on lightly.
Entry Requirements
Degrees and diplomas are not generally required, although a minimum of 5 GCSEs grades A-C is usual. A high level of health and fitness is required, with regular reviews.
Salary expectations for firefighters follow the Fire Brigade Union payscale, which starts at around £21,000 for a junior firefighter. This can be increased by around 20% with shift allowances and London weighting. Fully trained firefighters earn around £28,000 with the London weighting adding a further £4,840. Station managers can expect to earn £36,365 and £40,109, plus overtime rates etc.
Full and part-time firefighter roles are available, as well as retained firefighters. These are part-time roles that are given to people working in other jobs that can commit to being on call for certain shifts. It is important to get your employers approval before taking on a retained firefighter role, as although it is encouraged by some larger employers it can be very hard to accommodate for small businesses.
Alternative career
You may also be considering another career in the emergency services. Find out what skills and qualifications are needed to
Become A Paramedic
by reading our feature in the
Manual and Skilled
section.
You might also like...
I'm interested in firefighting... but I'm 36... and no gcse.s very fit and would like to no if any way I could get a job as fire fighter .
pakman
- 11-Feb-16 @ 2:46 PM
I would like to be a paramedic but iwould like to know where.pls help me.
Mphoza
- 9-Apr-15 @ 7:02 PM
@Chloe. That's great, does the article above help? Is there something else you'd like us to include?
ACareerChange
- 16-Feb-15 @ 11:06 AM
Hello I am Chloe, I am really interested in Firefighting and would love to know how to get into it and where to start.
Clo
- 12-Feb-15 @ 11:51 PM
Hi my name is Charlie and i am really interested. In becoming a fireman i would just like to know how to get started.
chaz
- 21-Jul-13 @ 3:52 PM