Becoming a Dressmaker or Tailor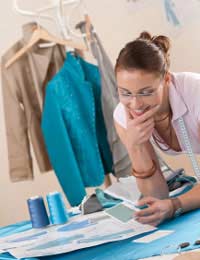 Working as a dressmaker or tailor is a career choice that is really as much to do with the confidence to call yourself a dressmaker or tailor as it is about actual qualifications.
There are no formally required qualifications or training courses to become a dressmaker or a tailor and although many people with established careers in these fields may have studied a vocational course, or even attended the prestigious London College of Fashion, the vast majority of people who make a living in these fields have simply gained on-the-job experience.
Skills
If you are thinking of changing career to become a dressmaker or tailor, the most important ingredient in your recipe for potential success is a true
Passion For Your Craft
. Whether you want to be a 'traditional' tailor who designs and creates bespoke suits, or a local dressmaker who alters everyday clothes, you need to be skilled, dedicated and able to communicate with all sorts of different people.
The wide variety of roles available to someone who decides a career as a dressmaker or tailor is for them largely depends on the type of future you see for yourself. If you want to create your own 'atelier' (workshop) with your name above the door, creating couture clothing, the sky is the limit in terms of earning and public profile, but so too is the stress, requirement for financial backing and demand to deliver new collections. If you want to work around your family, be based at home and deliver a service to your local community, dressmaking also offers that career option.
Dressmakers And Tailors need to have excellent sewing skills. The ability to create, fit and alter a garment is required, although the creative skills needed depend entirely on whether or not you want to design clothing, or even advise on design, or if you prefer to simply follow the patterns that your customers bring, or alter clothing they already own.
Earning Potential
There are very few guidelines as to what a dressmaker or tailor can earn, as even the most famous people in this field can actually have huge debts in order to create fancy collections, or indeed the local dressmaker may be making a decent turnover if they're working from their spare room and have a solid customer base.
One trap that 'one man band' dressmakers can get into is to charge too little for their services, and then find that they cannot put their prices up. This is especially common with people who say that they enjoy their job and don't do it for the money. That may be the case, but there is no reason that you should under-charge for your skills. Take care to look into what other people are charging, and have an hourly rate, a per-garment rate or a project rate.
Career Development
The
Fashion World
is your oyster! Dressmakers and tailors are much in demand by high-end clothing makers as many of their established staff near retirement age. The work can be hard on your eyesight and fingers, as much of the work is 'close', such as delicate stitching, and many techniques have been able to be out-sourced to low cost countries, but there is still great kudos in having hand-made clothing, so there are often roles available.
If your aim to be a self-employed dressmaker or tailor, either from your spare room or a Saville Row atelier, your earning potential can be as varied as your designs.
What Else Can I do?
If you have lots of creative flair, you may wish to consider a career as an interior designer. Find out more in our article
Jobs In Interior Design
.
You might also like...
what a completely insulting article to those like me who are studying this profession!!!! I am attending a 4 year study to be able to call myself a simple tailor, I will have to add 2 more years to become a master bespoke tailor. You are patently confusing "seamstress" with tailors and dressmakers and it's quite infuriating considering the amount of work that goes into studying tailoring or dressmaking. You absolutely do not become a tailor by tinkering at the sewing machine. A tailor never designs. A dressmaker never designs. They may work with designers to work on design prototypes, to get an idea from the drawing board to the mannequin. Tailoring belongs to the Arte Mediani guilds established in Florence in the year 1266, the guild being called Arte dei Linaioli e Rigattieri. Either you study it in a school environment or you become an apprentice with a bespoke tailor or dressmaker, if you do not, you cannot call yourself a tailor/dressmaker, Tailoring is among the oldest professions in the world and should be respected as such.
Iris
- 25-Sep-12 @ 12:47 AM