Jobs in the Electrical, Plumbing or Plastering Trades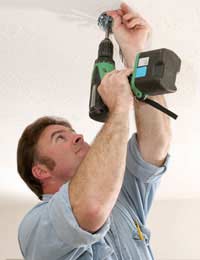 Some might fear that the modern world would come to a screeching halt were it not for electricians, plumbers and plasterers! We can thank the men and women who practise these professions for keeping us warm, dry and disease-free. If you're looking for a career change to something that truly makes a difference, read on to find out more about these opportunities.
The Role of a Plumber
You may think of plumbers only in connection with a blocked sink, but plumbing is integrated into many more areas vital to both comfort and public health. Plumbing is defined by The Chartered Institute of Plumbing and Heating Engineering as
"work associated with the provision of water supply pipework including that used for fire fighting; all forms of space heating, gas installation, sanitary appliances, discharge pipework and drainage; the weathering of structures and buildings."
So as you can see, a plumbing career can be filled with great variety and opportunity for specialisation.
To become a qualified plumber, you'll need to start with City and Guilds qualifications, followed by full NVQ qualification. You may be able to land an apprenticeship, but that will depend on the situation in your local area. There are intensive training courses available, including some with options for home study. But before enrolling, check with your regional City and Guilds office (City and Guilds) to make sure your training will be recognised.
To excel as a plumber, you'll need good practical skills and reasonably good physical fitness. You may work as a team or alone, but in either case you'll need to be good at dealing with the customer. The various situations in which plumbers find themselves usually call for good problem-solving skills. You'll need to develop the ability to follow technical drawings and plans.
If you work for an employer, you'll probably put in a 40 hour week with the opportunity for overtime. If you're Self-Employed, you can set your own hours. You may be called out at any time of the day or night, and in all types of weather conditions.
Gas Safe Registration
If you intend to work with any gas installations including gas appliances, central heating boilers and so on, you must be 'Gas Safe Registered' (formerly CORGI). You can find out how to get registered here:
Gas Safe Register Engineers
The Role of an Electrician
Electricians have become almost indispensable in today's world, especially since UK regulations prohibit certain forms of electrical work by unqualified people. Your job would be to fit, test and repair circuits and wiring, and you may be working in a home or business. Jobs could range from small domestic chores to large commercial development projects. Electricians usually work inside, but you may work on unfinished buildings from time to time.
You'll do well as an electrician if you have the skill to work with hand and power tools. You need to be able to pay close attention to detail and work methodically. Since electrical work usually involves colour coding, you must have normal colour vision.
Much like plumbing work, becoming a qualified electrician involves a combination of City and Guilds certification and NVQ qualification. Certification is open to all ages, but you will face competition for a place. Once you have your qualifications you should get registered with the National Inspection Council for Electrical Installation Contractors (NICEIC often abbreviated to the NIC). This is voluntary but is advisable especially if you Run Your Own Business as the organisation and its existence helps to ensure the safety of electrical installations in the UK.
The Role of a Plasterer
You may not believe that plasterers are as essential to achieving a good standard of living as much as electricians and plumbers, but life would certainly be decidedly more difficult without them! Their job is to make walls and ceilings ready for decorating by mixing in applying different kinds of plaster.
If you're contemplating a career change and you've passed the age for apprenticeship, you'll be pleased to know there are no formal qualifications to become a plasterer. Many employers would like to see some on-site experience in your background. You can start by looking for work as a plasterer's mate or labourer.
Those desiring a job as a plasterer should have good practical skills and be able to work with tools. You should be able to perform accurate work quickly. Good numeracy skills will help you as you calculate area and volume.
Plumbers, electricians and plasterers make our living spaces safer and more comfortable. If you pursue a career change to one of these jobs, you can be sure of this: your customers will be glad to see you arrive and genuinely thankful for the work that you do.
Careers in Construction and Engineering
If you're contemplating a career change into the construction and engineering sector, read our article in the
Manual & Skilled Category
of this site to find out about the job opportunities and training requirements.
You might also like...
I have level 2 city and gilds 6035 in plumbing studies,CSCS card, driver licence and little experience in plumbing and maintenance and I have been looking for work placement(not for short time) where I can achieve my NVQ and secure long term employment. Please help if you are a plumber/maintenance trader in Manchester or surrounding area or anyone who knows where can I find such a work experience. thank you
Emon
- 5-Nov-15 @ 3:44 PM
Hi Lucy, very interesting article. I enjoyed reading it, thanks:)
Plastering J
- 16-Sep-15 @ 11:11 AM