Working in Construction & Engineering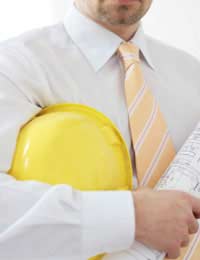 The construction and engineering industry is one of the UK's largest sectors. A quick glance at the London skyline or a scan through your local paper should be enough to convince you of the importance and vitality of the construction industry. If you're contemplating a career change and you're excited about working as a team member on large projects, then you should consider working in construction and engineering.
Choosing the Job for You
There is a range of possible job roles from which you could choose – you just have to visualise a construction project from beginning to end to comprehend the number of job opportunities available in this sector. As a large building, stadium, dam or other project moves from the idea phase through planning and construction to completion, a wide variety of craftsmen and professionals are required. From planners and designers to architects, and engineers to construction managers, each role meshes with the other to complete the project.
Routes into Construction and Engineering
There are three main routes of entry into the construction and engineering industry: craft, technical and university. If you want to work in one of the construction crafts, you will usually learn and gain your qualifications while you work. Younger jobseekers often accomplish this through apprenticeships. However, there are other job schemes available as well if you've already been working for a while and are looking for a career change. Most jobs in this sector of industry require good practical skills allowing you to work with tools, ability to follow directions and understand technical drawings and plans, and reasonably good physical fitness. To enhance your chances of finding employment, you might want to consider taking a relevant college course part-time.
Training
Training for the technical trades usually requires that you have at least four GCSE passes or better. You can work while attending college part-time, or you can attend college full-time before beginning work. Most of the job roles in this general area require you to have good problem-solving skills. You would also need knowledge of relevant technology. Job roles such as surveyor or technician normally require that you work to a high degree of accuracy. You should be able to plan and prioritise well. Strong communication and negotiation skills will be important as you deal with clients. While most positions require college level training, you may be able to begin as a trainee. Alternatively, you can investigate other methods of qualification like City and Guilds.
Some careers in construction and engineering require full-time University Training. For example, as a civil engineer plans, designs and manages projects they normally require either a Bachelor of Engineering or a Masters degree in civil engineering. Entry into these university programs usually require four or five good GCSEs along with A-Levels in maths and science-based subjects. The work will be demanding and require excellent skills in maths, science and IT. You will also need good management skills, and communication skills that allow you to clearly explain ideas and plans to others.
About 2 million people work in construction in the UK, and prospects for continued growth at all levels of employment are excellent. If you like the idea of working with a team to accomplish large projects, and you have good practical skills, then working in construction and engineering will probably be a good fit for you.
Those looking for a career change have several choices in this field. Since most crafts operate on a learn and earn basis, you may be able to get started more quickly. As you move up in levels of responsibility, the requirements for education also rise, so changing careers into a technical or professional role may take more time. But if you have the determination and the resources, there's a good chance you can soon make your own mark on the local skyline.
Building and Project Management
If you are unhappy in your current job and looking to change careers, there are opportunities in the
Building and Project Management
sector that may appeal to you.
You might also like...
I am looking for a career in labouring my previous work experience is working in office. But I have been diagnosed with severe depression which I believe is caused by me being indoors all day. I am very good with my hands as I do a lot of DIY and a fast learner. Also not afraid to do a hard days work. Please can you help and give me some advice? Thank you
Paul
- 13-Apr-16 @ 4:41 PM