Becoming the Boss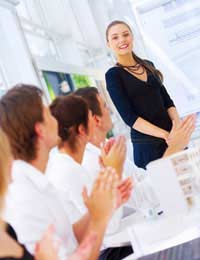 Great news – you've got a new promotion and you're going to be a manager. This often means, however, that you now have to be the boss of your friends.
Making the move from colleague to manager is never an easy career transition and it can be tricky to suddenly be the boss. There is no easy way to handle the situation as it is inevitable that the dynamics of your relationships will change. However, think about the kind of boss you want to be and work hard to act that way. Talk to your colleagues about the new situation, try to gain their respect and remember that, like anything, being the boss is all about trial and error.
What Kind Of Boss Do You Want To Be?
During your career you will have had great bosses and ones that you would rather forget. Look at your own experience for inspiration about how you want to be. You have been given this promotion for a reason so your managers obviously believe you can do it. Have confidence in yourself and try to find your own way of managing people.
Talk To Your Colleagues
Suddenly becoming the boss can be hard on your working relationships. There may be resentment from your colleagues or they may find it difficult to take orders from you. This conflict will ease as they get used to the situation but it is worth talking to them. Try to gain their respect by acknowledging the awkwardness and asking for their feedback about how to deal with it. Establish yourself in a position of leadership but show that you do not think that you are any better than them or want to assert your authority unnecessarily.
Things Change
Unfortunately, your working relationships will change when you become a boss. If they didn't, then you wouldn't be doing your job very well. This doesn't mean that you can't maintain friendships with your colleagues but you both need to respect the new dynamic. If both parties can accept this, it will still be possible to be sociable and friendly. You must be sure that you aren't seen to be showing any favouritism to your friends, though, so be careful about the decisions you make.
Trial And Error
Like any career move, you are not going to know everything on your first day. Give yourself time and don't be too hard on yourself if you make a mistake. Being a manager is a learning curve and you will develop your style through trial and error. The best thing to do is to be honest with your staff about your situation and ask them and your managers to give you feedback to help you improve.
Becoming the boss is not an easy career transition but don't be too hard on yourself, as management is a lot about trial and error and learning from your mistakes.
How to gain a Promotion
Before you go for that
Promotion
, read our guide on how to make the best possible impression.
You might also like...