The New Face of Evening Classes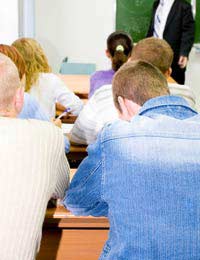 Evening classes have moved on an awful lot in recent years. Whereas it used to be that (cliché alert!) bored housewives would take a once-a-week class in macramé or retired couples would enjoy 'conversational French', evening classes now are a far more exciting affair – and more conducive to a career change, too!
So if you're thinking of taking that great big leap into the unknown with a career change, you could do worse that look at what's on offer in your local area in terms of evening classes.
What Can You Learn at Evening Classes?
Local education authorities, libraries and universities have got wise to the fact that there are plenty of people looking to
Learn A New Skill
, so by offering a wider range of classes they'll get more people through the doors, and more associated revenue.
If you live in a large city, the range of classes available will be more than you could ever imagine, from basic Japanese and Spanish for business to sauce making and starting a website. In fact, even relatively small towns now offer a pretty decent selection of courses, with all manner of weird and wonderful subjects popping up. It's no longer unusual to see belly dancing classes in the next room to amateur photography!
Which Classes are Good for a Career Change?
You may have decided that an advanced understanding of belly dancing is exactly what you need to further your career change, but if not, you may wish to consider what other classes would boost your chances.
A great place to start is a basic bookkeeping course. You may think this sounds terribly old-fashioned, or that there's plenty of software out there to help you instead, but unless you have at least some grasp of keeping your accounts in order, you could have your head in the clouds when it comes to Running A Business.
If your Career Change Goals are more connected to a creative pursuit, such as writing a novel or being a cake decorator, you will need to find a more targeted class. There is always something connected, even if you have to travel to the next town to find it. But don't rule out the bookkeeping course, too!
What to Expect from an Evening Class?
Evening classes are no longer the fusty, strict places they perhaps used to be. The class tutors don't just tend to be retired teachers, but are more likely to be people that have worked in the industry or people who've chosen to make a life change themselves. Consequently, you're far more likely to be getting involved in the discussions and have your ideas challenged rather than simply being 'talked at' as used to be the case.
The best way to find out about what evening classes are on offer locally is to go to your local library or high school where they'll be able to point you in the right direction. You could even ask at your local council offices, and internet search engines are your friend! There is usually both a printed and online version of the term's classes, where you can see a little more about what the course has to offer, how much it costs and what days and times it's on.
Most courses run for 8-12 weeks, with classes once a week on the same day at the same time. Classes that involve a lot of materials, such as photography, tend to be more expensive than something like philosophy, which just requires tables and chairs (or does it?)
Surprising Benefits of Evening Classes
If you're taking a career change-focused evening class, it stands to reason that you're likely to meet like-minded people. That's not to say that you'll meet lots of people wanting to do what you want to do, but at least you'll be in a room with people who are passionate about your chosen subject.
Perhaps the most exciting benefit of evening classes is that you could meet people who might turn out to be helpful to your career change; possible mentors, partners, suppliers… always keep an open-mind and you never know where your evening class may take you!
The Benefits of a Mentor
Find out more about the role of mentors in business, and how they can help your career development by reading our article
Finding and Making Use Of A Mentor
.
You might also like...
I would like to get to be a social worker but not sure how
Maggie
- 17-Sep-15 @ 10:46 PM
@KathyW - Your question :
I would like some information about starting social working training, I am 45 and work full time so would need it to be part time studying or online studfying if thats possible?Any advice would be greatly appreciated Thanks"

---
Our response:
There are options for studying part time. It takes longer and you will also need to find time for relevant experience/work placements throughout your course. We have more information in these two articles:
Changing Career to be Become a Social Worker
Becoming a Social Worker
ACareerChange
- 6-Aug-15 @ 9:45 AM
I would like some information about starting social working training, I am 45 and work full time so would need it to be part time studying or online studfying if thats possible? Any advice would be greatly appreciated Thanks
KathyW
- 5-Aug-15 @ 11:45 AM
I work full time but I would like to do a course on becoming a social worker if you can give me any information about it as I'm based in Manchester, would be much appreciated! Thanks :) x
Charliie
- 4-May-15 @ 11:22 PM
Hi I am a 27 year old time served roofer and would like to retrain as a fully qualified gas engineer due to having a young family I need to keep my Monday to Friday job full time,is there part-time or home courses or anything I can do to make this a possibility please help and thankyou for your time. Adam
Adam
- 19-Dec-12 @ 10:27 PM
Looking for any info into how I go About getting started on teaching at this stage of life
Nats
- 8-Sep-12 @ 11:53 PM
I am 36 yrs of age n presently working at a permanent glue factory I completed a degree in business n travel n tourism but am interested in changing careers n wud love the area of teaching at both primary n secondary levels is this possible n if so how do I go about starting it
Nats
- 8-Sep-12 @ 11:50 PM