Don't Be Held Back by Basic Maths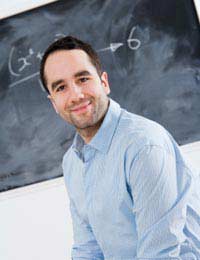 It can actually be for the most seemingly unrelated reasons that some people don't take that step towards making a career change. We may convince ourselves that it's because we don't have enough time to research a new venture, or that we like our current job more than we actually do, when it can really be a completely different reason that's holding us back.
For many people, a poor grasp of basic maths can be a very powerful force in stopping them living the life they deserve. That could be because it's hard to fill out certain forms, or that working out percentages in restaurants when out with friends puts them off going out in the first place.
So the fact that a lack of basic maths is often the real reason why people who would actually be terrific at a different kind of job, or even Running Their Own Business, is something that needs to be looked at. The Government recognised this was the case in the early 'noughties' and launched a campaign to get adults 'back to school' with a basic maths course available in local libraries, but the harsh advertising (remember the gremlins?) was not considered a success and the issue is still much the same.
What Can You Do?
So what can you do if you feel that a lack of basic maths understanding is holding you back? Well, the first step is to give yourself a big pat on the back for realising that there is a problem. And the second step is to keep reading!
Your Experiences
Often, a lack of basic maths stems from having a terrible maths teacher at school. Unless your brain easily slips into learning maths, the difference in your likelihood of understanding or, God forbid, actually enjoying maths varies greatly depending on whether or not you had a maths teacher who was able to bring the subject to life. So if you had a poor maths teacher and you're not naturally suited to figures, it's perfectly understandable that maths is not your strong point.
So now we know that not being good at basic maths is not your fault, let's move on to working out how you can learn in order to stop it holding you back in your day-to-day life, and in particular Your Career Change Goals.
Take a Class
First up, there are plenty of cheap or even free classes around. That idea may fill you with dread, especially if your rubbish maths teacher from school wasn't just bad at their job but terrifying, too. But the beauty of being an adult is that you can make your own choices, so it's certainly worth taking a trip to your local library and asking about introductory maths classes. If they don't run one, they can point you in the right direction. There's no need to feel silly for asking – if you were the only person in the country who needed a little bit of maths tuition, there wouldn't be so many classes!
Online Support
If the idea of joining a structured class doesn't appeal to you, how about going online and learning basic maths in the comfort of your own home? There are plenty of websites that offer basic maths for adults, or you could pick a school year group (maybe start at year five and work up to build your confidence) and look online for study notes. You can also take out books from the library offering basic maths help – there are plenty about. You may find it more helpful to pick one for adults rather than one which is geared up to passing exams though.
Business Support
Another suggestion is to speak to your local business advisor and see if there is any maths support available. Business Link often runs course on basic IT skills, basic bookkeeping and so on, so it's a great way to meet other adults in a similar situation as well as boosting your maths skills – you never know, it might be good for networking to find that dream career change opportunity, too!
Evening Classes
Read our article
The New Face Of Evening Classes
to find out how doing a part-time course might be good for your career change.
You might also like...
Emily- Your Question:
Hi there,I was wondering what the first step would be to becoming an air hostess? My dad is in the airlines industry but I wanted to do it by myself. I am currently in my first year of college studying law, psychology, politics, anthropology and retaking my GCSE maths. I don't think college is for me, I have honestly left revision very late. I had this idea before but now looking into it more. If you could give me some advice on where to start and if I need maths? Thank you!Emily
---
Our Response:
Most airlines ask for GCSE maths and English, so it's worth seeing your re-sit through at least.
ACareerChange
- 18-May-16 @ 10:34 AM
Hi there, I was wondering what the first step would be to becoming an air hostess? My dad is in the airlines industry but I wanted to do it by myself. I am currently in my first year of college studying law, psychology, politics, anthropology and retaking my GCSE maths. I don't think college is for me, I have honestly left revision very late. I had this idea before but now looking into it more. If you could give me some advice on where to start and if I need maths? Thank you! Emily
Emily
- 15-May-16 @ 4:48 PM