How to Network Effectively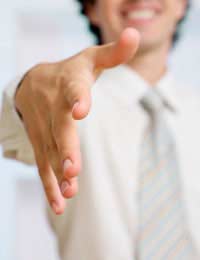 You may be the best person for the job but if nobody knows about you and what you have to offer, then you won't be considered. Networking is a great way to stay in touch with people in your industry, as well as meeting new contacts. It gives you a chance to meet people in person and to make a lasting impression that you can build on. Regular networking will get your name known and help you move on in your career.
Organised networks
There are many different ways to network but one of the easiest is to join an organised network. Theses are arranged through all sorts of different means and allow you to meet people that all have a common goal or interest. Some of them you will have to pay for, while others will be free, but it is worth asking around to find out which come recommended. This type of
business network
ing means you can meet a lot of new contacts in a short amount of time and takes the hassle out of organising your own event.
Computer networking
In the internet age there are all sorts of opportunities for computer networking. Whether it is a professional site that has been created for your industry, or more informal groups set up on social networking sites. This is an easy and cheap way to stay in touch with people and keep up to date with the latest developments. You can also create your own networking groups via email. Be careful about what information you share on the internet, though, and be sure you know who you are actually talking to.
Making an impression
To network effectively you need to
Make A Good Impression
on the people you meet. You may not have long to impress them and you want to make sure that they remember you. First,
Dress Appropriately
for your industry and the formality of the event. Smile and look open and approachable. When you speak to people have an opening blurb rehearsed about who you are and what you do, but make sure you ask them plenty of questions and look interested in what they have to say.
Staying in touch
There is no point networking if you are not going to use the contacts that you make. Business networking should be done regularly and consistently. Be sure to give your card out and then get in touch to follow-up. Keep them up to date with any career news, help them out or arrange to meet for a coffee. Contacts may not be useful to you for a while but it is always worth keeping them on the radar just in case.
Networking effectively is all about choosing the right network, making a good impression and staying in touch. Picking a network that suits your career best, making an effort to appear professional and listen to the people you meet and maintaining your contacts will all help you out. Don't think of networking as a one off thing, but an ongoing process that give you more, if you put in more.
More Networking Advice
For more advice on how networking can help with your career change, you may find our other articles in the
Networking Category
useful.
You might also like...