Making and Keeping Contacts at Work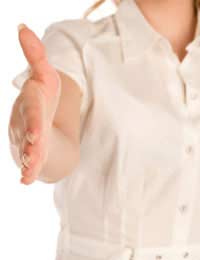 Making and keeping contacts can be crucial to your career development. The old saying 'it's not what you know, it's who you know' is often very true when looking for a new job or trying to progress in your chosen career sector. Some people are better and making and maintaining contacts than others but a little bit of work at it will always pay off further down the line.
Making Contacts
During your working life you will come into contact with thousands of people that are all connected to your field in some way. All of these people could be future sources of work and help your
Career Development
. Make the most of all of these encounters by swapping business cards or contact details with everyone you meet. Whether they are business contacts, people you have met through networking or friends' associates, it is worth making that move.
Impressing Contacts
It may sound like a great idea to gather the contacts of all the people you meet through your work, but unless they are impressed by you, then they may not want to stay in touch. Always make sure that you are well presented and appropriately dressed for the occasion. Turn up on time, be polite, open and interested in what people have to say. Understand your career field well so that you can make intelligent comments and be able to sum up what you do and what your skills are (see our article
How To Identify Your Transferable Skills
in this section).
Maintaining Contacts
There is no point making all these contacts if you are not going to maintain them. You need to keep your name out there so people remember who you are if you do need to call on them. Send them an email updating them on your situation, arrange to meet for a coffee, or do them a favour by offering them some information that could help them in their work. It only has to be small gestures but they will make a big difference to the relationship you have with your contacts.
When To Use Them
Gathering and maintaining contacts is all well and good but you need to know when to make the most of them. You can use your business contacts to help your career development when you are looking for work or trying to find out more about a person or company. As long as you have kept up the relationship then they shouldn't mind you calling on them. Don't try to disguise your purpose – ask for what you want clearly and politely.
The best way to find new work or learn about what is going on in the industry is to build up a strong network of contacts. It really is true that who you know can more be more important that what you know. You need to be well presented and handle yourself well so that people want to swap details with you. Then you need to maintain these contacts by staying in touch so that when you do need them, they will be happy to help.
You might also like...
Hi, We are an India-based SEM & Web Development company. We are a team of 50+ IT professionals with expertise in: Search Engine Marketing: 1. Keyword Research & Analysis 2. Web Competition Research & Analysis 3. On-page SEO 4. Off-page SEO 5. Local SEO 6. Content Marketing 7. Backlinks Acquisition We'd be happy to send you WEBSITE AUDIT REPORT our PRICING & PACKAGES details if you'd like to assess our work. Looking forward to hearing from you. Warm Regards, Naveen Kataria
SEO Services
- 24-Mar-22 @ 12:50 PM
Create Or Re-design Your Business Website We are a progressive web solutions company based in Delhi, India. We create stunning websites and do web marketing at very affordable price for clients all over the world.
Wendy Miller
- 10-Jan-19 @ 5:01 AM
First page rankings on Google We can put your website on 1st page of Google to drive relevant traffic to your site. Let us know if you would be interested in getting detailed proposal. We can also schedule a call & will be pleased to explain our services in detail. We look forward to hearing from you soon. (GUARANTEED RESULTS) Thanks!
Sophie Miller
- 30-Oct-18 @ 11:36 AM
Want more clients and customers? We will help them find you by putting you on the 1st page of Google. Email us back to get a full proposal
Bella Garza
- 16-May-14 @ 7:25 AM