Understanding Your Corporate Network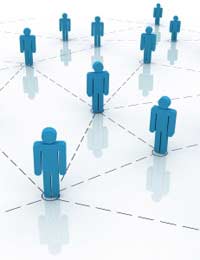 Your corporate network can be a useful tool in developing your career, by giving you access to the right people to contact in various situations. But for it to work you need to identify who is in your network, and to keep it regularly updated. So let's start at the beginning.
What is a Corporate Network?
Put simply, a corporate network is a way of understanding the power and authority that various people in your organisation have. You might be thinking of an organisation chart, and while it may look similar in design the content is likely to differ. Position does not always equate to power. For example, many organisations have people that don't have official senior management positions yet their opinion is greatly respected, and to have them as a supporter can add huge weight to a decision. Equally, there can be people who have fancy titles yet have little authority.
It's a rushed mistake to assume an organisation chart is your network; it's not!
What does a Corporate Network Look Like?
It may be helpful to draw your network in a similar style to your organisation chart. But remember that your focus is on power and authority, not title. You may decide to map your entire organisation or simply an area that is your main focus.
It is often easiest to draw your network as a diagram, starting from the bottom and working upwards. Consider who people look to for guidance and leadership. Remember, it doesn't have to reflect any organisational structure. It's possible that people look to others outside their function. There may also be people from outside your organisation who have influence (for example, suppliers and consultants).
Understanding Your Corporate Network
This generally isn't something that is public knowledge, and is most likely very particular to the person drawing the corporate network. An effective network for you is likely to differ to one drawn by someone else in your organisation.
Networking
Understanding who to go to and who you need to get as supporters is vital information for anyone moving ahead in their career. But knowing who is only part of what
Networking
is all about: effective networking is about building good relationships.
People are unlikely to support you if they don't know you very well or understand what you are trying to achieve. Equally, you may be on the receiving end. Networking is about giving as well as taking. Over time you should be aiming to build up useful and supportive working relationships.
Where Are You in Your Corporate Network?
Understanding your position can be very useful in analysing your career potential. If you are a fundamental aspect of the network, someone that people go to for advice and leadership, someone that is sort after for their opinion and support, then you are clearly a valuable employee to the company. However, if you are not in such a position then you have work to do. Build up your working contacts and foster relationships. You make also need to do some self-promotion so that people understand the value you could contribute.
Your corporate network will change rapidly, just as an organisation chart can quickly get out of date. Over time you will build different relationships and gain greater responsibility and authority yourself. Keep your network regularly updated and you should be able to use the information to great effect. Remember it shows you both your strengths (the positive relationships you can rely on) as well as your weaknesses (relationships you need to improve).
Promoting to Your Network
People won't know that you're looking for a career change unless you tell them. Find out how to
Promote Your Career Change Aims To Your Network
in our feature in the
Networking Category
of this site.
You might also like...