Becoming a Lawyer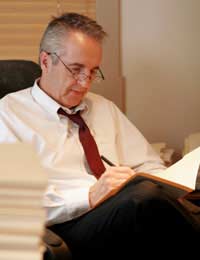 Working as a qualified legal advisor, whether at a private practice or in-house (for a large company or the public sector), is regarded as an admirable career path for any person to undertake. Although the job and duties of legal professionals have long been portrayed in TV and film media as glamorous and melodramatic, the reality is most likely more intense, labour-intensive and Stressful, but still ultimately rewarding.
Services
As a solicitor you'll be expected to deal with both individuals and small businesses, with the chance to involve yourself in legal aid if you choose to. The work itself will involve offering a range of services, from dealing with matrimonial legal affairs, probates and wills, to cases of litigation. Solicitors are also commonly involved with the legal aspects of property ownership and tenancy.
This sort of work means that you'll be expected to employ a multitude of skills. Owing to the amount of documentation-like surveys, legal, police and medical reports that solicitors handle, you'll have to have an aptitude for analysing information, as well as having competent English language, IT, administrative and organisation skills. Interpersonal skills are important, as you'll be expected to not only provide your clients with services, but also deal and liaise with other professionals, departments and team members. As you'll be dealing with financial fees and possibly estimating damages, you'll also have to possess good numeracy and negotiation skills.
Entering the Profession
Entry into this sort of career change is particularly competitive. As a graduate with realistically at least a 2:1 honours degree and good A-Levels you'll basically be in a stronger position, particularly if you have studied law. A 2:2 may be accepted if you have a plethora of relevant experience and skills to offer.
If you have a non-law degree, you may still be able to start training but you'll have to take a conversion course known as the Graduate Diploma in Law (GDL), or the Common Profession Examination (CPE). There's also the optional route of working as a legal executive as per the Institute of Legal Executives (ILEX).
It's worth taking into consideration that in some instances, if you're unable to study full-time, you might be able to take a part-time GDL/CPE course over a period of 2 years. The normal course length, however, is one year of full-time study.
All graduates then also have to take the Legal Practice Course (LPC) – for full-time students this takes a year, but can also be taken part-time over the duration of two or three years. The fees for the LPC be as high as £13,000. You may be lucky enough able to find sponsorship for the LPC, but this tends to be the case only with the larger firms. Ideally, beyond the LPC you will then secure a two-year training contract, during which time you should train within the 4 areas of law.
Be Realistic
Becoming a solicitor is a massive career change, thanks in part to the amount of training that has to be undertaken in order to practise. You should consider that if you can't secure a sponsor, you may also have to pay out for your own fees, which can be particularly difficult if you have any dependents or financial responsibilities (see our article
How To Finance A Career Change
).
Age is also a consideration – although age discrimination is illegal, as a mature applicant realistically you may have to work harder to be selected by an employer. Lack of experience will definitely be a turn-off, so it's worth taking the time to build up your work experience and any specialisms. This can be done via voluntary work, which is advisable anyway as it'll give you a really good grounding, as well as an idea of your suitability to a career as a lawyer.
You might also like...
I am a current serving police officer and considering a career change to become a police station representative. I am able to go through the process if I am on a career break or do I have to resign prior to starting. I note that exemptions for the role state a "serving police officer".
Jake
- 5-Oct-14 @ 10:16 AM
I am a Family Solicitor and have been for many years. All I can say to anyone thinking of doing this is - don't do it. Save yourself the money, stress and ultimate disappointment and do something else. I went into it many years ago wanting to "help" people. And although I'm sure I have, that is far from what the job is all about. You will come under unrelenting pressure from the firm to record chargeable hours, meet unrealistic targets and often with little or no support and training. Expect long hours, working weekends and getting nothing in return. I am a legal aid lawyer - most of us earn not much above the average wage, have no pension or other benefits so if you think it's well paid, think again. Not one person I have spoken to says they would go into it again if they had their time over. I certainly wouldn't. It is also a contracting area. With legal aid cuts coming in, many of us will be laid off. The market is also being deregulated. Lawyers are not respected generally and the work they do is not appreciated. So save yourself a lot of heartache and debt. Don't do it.
Dontdoit
- 11-Aug-12 @ 5:57 AM
Im thinking of a career change, I'm a police officer at present but was wondering if it was possible to become a accredited legal rep for police station consultations obviously I would have to leave the police force. Could I do this and be self employed representing a number of legal firms dependant on the local duty rota so I could decide when I work??
Suzyq
- 6-Jun-12 @ 9:37 PM
I have completed my bachelor in Law in the Netherlands and would like to do a masters in the UK. I am very much interested in Family Law and I was wondering if you can advice me on how I can become a Family Law solicitor in the UK. What course would you advise me to do
Idsf
- 10-Oct-11 @ 10:37 AM
How long does it take to qualify as a family solicitor?
I need help!!
- 27-Mar-11 @ 8:21 PM