A Career in Forensics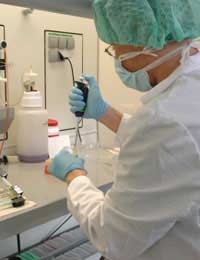 A career in forensics is challenging, rewarding and highly skilled. Although not the most lucrative of scientific careers, it is certainly well-paid, with excellent prospects and a solid career path. Forensics is also a growing sector as increasing technologies bring about more opportunities for evidence to be gathered and analysed. Consequently, it is a career that has long-term stability.
The UK forensic science industry employs only 5,000 people, not including related administrative staff, with around 200 forensics graduates offered full-time positions each year. A degree in Forensic Science, Forensic Biology or Forensic Chemistry is needed to work in the industry.
Jobs in Forensics
There are three main areas of interest in forensic employment – forensic biology, forensic chemistry and drugs and toxicology. There is a great deal of similarity in the analytical aspect of each of the three areas and most graduates start in a generalised role that encompasses aspects of all three, although most senior forensic scientists choose to specialise in a specific area later in their careers.
The core skills required for a successful career in forensics can certainly be enhanced through training and study, but you need to be inherently suited to the detailed, analytical nature of the job. Working in forensics has very little to do with the fast-paced, glamorous world of television crime detection dramas and far more to do with routine evidence collection and a great deal of repeated tasks.
Skills and Requirements
A typical job description of a forensic scientist will include collecting evidence from crime scenes, recording findings in a thorough and detailed manner, analysing samples using specialist technical equipment and using various techniques to gather DNA samples. Some more senior forensic experts are called on to give evidence in court too and some may continue to study and/or write papers, journals or articles for universities or related industry publications.
The types of people who excel at forensic roles are usually naturally analytical, pay great attention to detail, are able to work effectively both as part of a highly complex professional team and individually, have great patience to deal with often repetitive, tedious tasks and be prepared to be on call at any time of the day or night.
All forensic scientists have a degree, usually specific to forensics, although there is the possibility of crossing over from a more general science degree, or gaining a specialist forensics degree after a period of training.
Salary Expectations
In terms of salary, depending on location and employer, a public sector assistant forensic scientist (the entry level position for graduates) working outside of London could expect to earn £16,000, plus overtime. The next grade up, a reporting officer, would earn a starting salary of about £18,000, plus overtime, with both positions gaining around £1,000 each year of completed service. Please note that many of these roles still attract a form of final salary pension scheme.
After three years experience in forensics, the average salary is around £25,000. For senior reporting officers, the salary is around £40,000 to £50,000, with excellent job security.
Other Career Options
Discover how to turn an interest in chemistry into a new career in our article
Working in Chemistry & Pharmaceuticals
.
You might also like...
Im Sibusiso Michael Zwane currently working as Debt Collector in Johannesburg Randburg company Name : Shapiro Shaik Defries And Associates for 02 years on the Campaign of SABC Tv Licence the Book Blue, Red, And Green but currently collecting in Blue Book registered with the Debt Collector Association reason, Iam interested in Forensics Auditing most of the Accounts collecting are Fraudulent Account. My Contact Number : cell : 074 720-7683 te: : 011 982741
sbuda
- 24-Mar-14 @ 4:46 PM
This is an inaccurate, potentially misleading article. I have been a forensic scientist for over a decade, starting my career in the Forensic Science Service (FSS) before it was closed down, now working for a private Forensic Provider who carries out forensic work for a number of Police Forces across the country. I also have a number of friends and colleagues who work for other forensic providers, so would say I have a good grasp of the current forensic picture. As a Senior Forensic Scientist, I have also interviewed, recruited and trained other Forensic Scientists and so am aware of the desirable skills and qualifications looked for in an applicant. I would firstly say that a degree in Forensic Science, Forensic Biology or Forensic Chemistry is not a pre-requisite. Every forensic provider will train a new scientist in their own Standard Operating Procedures and so in-house training is a given. We tend, rather, to look for a good degree in a sound, scientific related discipline (e.g chemistry, biomedical science, engineering) to ensure first principles are understood, and then will train the applicant in the relevant discipline. Having 'Forensic' in the title of your degree will not give you any advantage over an applicant who has a good non-forensic science degree. Secondly, the scientist will not generally begin with a generic job that encompasses all of the scientific disciplines. The applicant will begin in one specialism only (e.g. Biology) and will normally then spend the rest of their career in that one specialism. It is, after all, a requirement that the scientist is an expert in their field and so we do not begin by making a new forensic scientist a jack of all trades. Cross- training in another evidence type is not unheard of, but as the Forensic market is now profit driven, giving a scientist who can generate revenue from their given evidence type time out from casework to train in another discipline is rare. This is not a well paid profession and unless you want to enter into a management position, the progression prospects are few and far between. There is the 'examiner' or 'assistant' level, usually a lab based position, with the individual carrying out the repetitious examinations and/ or analytical procedures on items seized from scenes of crime. Although people entering at this level are often told that it is a way in to becoming a Reporting Officer (RO), my experience is that this progression is in no way guaranteed and people can wait years for an opportunity to apply for a higher position, and will not necessarily be successful. Some Forensic Providers have limited career progression within the examiner or assistant role (e.g. Senior Examiner), allowing for involvement in the co-ordination of large cases and increased involvement in strategy setting, DNA profile interpretation and so on, but there is little progression beyond that, other than to enter into management. Having a degree is not essential for the
Blaise
- 6-May-13 @ 11:45 PM