Working as a Medical Rep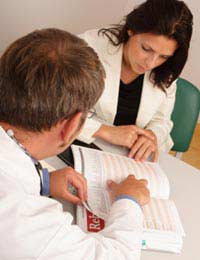 A career as a medical rep can be very lucrative, with a number of excellent perks and incentives, but unless you are a skilled sales person, those treats are going to be awarded to your more tenacious colleagues!
Understanding the Role
Working as a medical rep usually means that you are employed by a large drug company or medical products development company (usually large companies as they need plenty of money to afford the expensive research and development required, and they are often subsidiaries, affiliates or wholly owned by massive multinational conglomerates).
The role of a medical sales rep is to sell the products or services of the company to its target customers – usually doctors, Nurses, pharmacists or other related professionals. The products tend to be particular branded drugs or medical equipment, or whatever medical products the employer manufactures or has the distribution licence to sell.
Consequently, it is a very sales focused role, with large amounts of money depending on how efficient and effective the medical rep is in selling the products of the employer to the target customers. This means that it is a highly targeted role, with both financial and 'experienced-based' incentives available, usually on a weekly, monthly, quarterly and annual basis. Experienced medical reps can 'win' first-class trips to New York for beating their targets, for example, so it appeals to people that are able to close the sale as much as follow up initial leads.
What Skills are Needed?
For a medical rep to be considered a valuable addition to the team, they must be dedicated, tenacious and highly motivated. This is not a career for 'Steady Eddies', as the highs can be very lucrative, but the lows can result in pretty quick dismissal. A good rep needs to be able to beat, or at least meet, targets regularly, and not be disheartened by the inevitably large amount of 'no' they will come across.
Medical reps tend to have degrees, and often in related subjects such as biology, although they are just as likely to have come from a sales and marketing background, such as Recruitment or advertising sales.
You will need to be confident, have excellent communication skills, never take no for an answer, and be able to represent what are often large multinational companies professionally.
Career Development
A medical rep will tend to start with a small roster of clients in a relatively minor area, expanding to more important areas as they show how capable they are in beating targets. As experience is gained, contracts won and money made, the rep will often be given an even more lucrative client base, with more opportunities to beat targets. You may also be given the opportunity to manage other junior reps, taking a cut from their revenue and helping to build their network.
Once this stage is reached, many medical reps are expected to attend a number of relevant conferences, both for the industries to which they sell and also for the employers itself. These can be in glamorous locations and are all expenses paid, so this is great if you are young with few ties, but can be more challenging if you have family responsibilities.
Salary Expectations
It is clear that being a successful medical rep can offer excellent financial rewards, with the addition of excellent perks, such as incentives of travel and cash. The basic salary of an inexperienced graduate medical rep may only be around £17,000, but this can increase rapidly if targets are reached and promotions given. This also means that many people do not succeed in this career, so it is not a career option to be taken lightly if you do not match the type of person described in this article.
Fast Tracking into a Science Career
One reader asks if there is way to fast-track into a science career. Find out what our expert suggests in this
Q&A
.
You might also like...