Careers in the RAF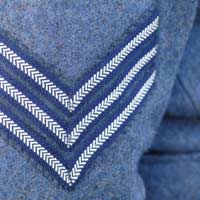 With over 50,000 people in 50 different types of jobs in the Royal Air Force, it's clear that the career options go a lot further than flying fighter jets. In fact, there are so many, varied career options for recruits to the RAF that it's important not to overlook it as a satisfying and secure career.
It's Not Just Pilots
The RAF has a reputation for only recruiting the fittest, healthiest people which, while that is important for the few that get to fly the fighter jets, it's not much help if you've got asthma and terrible eyesight. The vast array of jobs available in the RAF are too numerous to mention, but it is safe to say that many 'civilian' jobs are also available in the RAF.
RAF Recruitment Offices
Most large towns and cities in the UK have an RAF recruitment office, often with regular open days. If you're even half thinking about a career in the RAF, this is a great place to start because you can have lots of questions answered at one time. They usually have an open door policy, so even if there is not an official open day, it's worth calling in to find out more about the exciting opportunities in the RAF.
Many people want to know more about working conditions, types of roles available and the career development opportunities, so here are some answers to these most popular questions.
Working Conditions in the RAF
The RAF offers a very secure, rewarding long-term career opportunity. Although you have to commit to staying in your role for a certain length of time, ranging from 6 months to 12 years depending on the position and the cost of training, many people welcome the security this brings.
There is a huge range of further education training and courses available to RAF recruits in all manner of positions, so it's a great way to gain extra skills while being paid for it. Consequently, many people come out of the RAF in a more employable position that before they went in, with the added benefit of having travelled the world.
Travelling opportunities are also possible for many RAF recruits, although not necessarily to the world's most glamorous locations. Many people are posted to bases in the UK initially.
Selection Conditions
If you don't have 20/20 vision or have other health worries, it doesn't mean that you can't join the RAF, but you may have to think beyond
Being A Pilot
.
The selection process for anyone wishing the join the RAF, regardless of position, requires some element of health and fitness but those levels vary tremendously depending on the type of role.
Roles Available in the RAF
Some of the more unusual roles in the RAF include banqueting chefs,
IT Network Specialists
and
Accountants
. There are also many types of administrative positions available, as well as all the support functions, such as medical staff, cleaners and trainers in all manner of subjects.
If you have a particular health issue but are especially keen to join the RAF, you can certainly find a suitable career.
Other Military Careers
For more information and advice on careers in the military, read our articles
Types Of Military Careers
and
When To Join The Military
.
You might also like...