How Much Do You Know About Your New Career?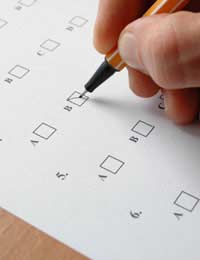 It's really exciting and really brave to change your career, but that doesn't mean that you shouldn't be at least a little bit practical about your decision. Before you leap head first into your career change, you should take this test so you can ascertain how much you know about your new career.
Read the following questions and pick which answer best suits your feelings, then look at the answers at the bottom for some advice before you take this major decision.
New Company
You've been offered an exciting new job that you really think is a terrific career change. But how much do you know about the company and is it really suited to you after all?
A. I know a friend of a friend that works at the new company and we've met for a coffee to talk about the company culture, office politics and who to watch out for.
B. I read the company website and I'm pretty sure that I like the sound of it – plus they're offering me lots more money, so how bad can it be?
C. I actively researched the organisation, gained a detailed business report, and have offered to spend a week for free to learn the ropes before I start my new employment.
D. I'm not entirely sure where they are based because I just had an interview with a recruitment consultant before they offered me the job, but she made it sound really exciting.
New Role
This great new job sounds wonderful and you're really keen, but are you just letting yourself see the good bits without being realistic?
A. I've made sure that the job doesn't involve doing what I hate because I took cold calling off my CV and checked at interview that I wouldn't have to do it.
B. They didn't mention anything about cold calling at the interview, so I'm pretty sure I won't have to do it.
C. I asked for written confirmation both at interview stage and from the assigned recruitment consultant that cold calling would not be required from this role at any point in my Career Development Programme.
D. The recruitment consultant said that I would have to 'generate new business' and 'get on the blower' but she didn't mention cold calling, so I think I'm safe.
New Potential
You've got a new job and made sure you like the job description, but what about career prospects? Are they offering what you want?
A. At interview, I made sure there was a career development programme in place that would mean I could progress in the next few years.
B. They told me that they look after their staff at interview, so I'm hoping they're true to their word.
C. I emailed a Power Point presentation clearly marking my career goals prior to interview.
D. I didn't really mention my career aims because I didn't want to make them go off offering me the job.
Answers
If you answered mainly As, you have a pretty realistic view of your new career change and are likely to make the opportunity work for you.
If you answered mainly Bs, you could perhaps do with being a little bit more assertive, but you are heading in the right direction.
If you answered mainly Cs, you may want to take a step back and stop being quite so dogmatic – you may miss out on opportunities as people think you are a bit too full-on.
If you answered mainly Ds, you are likely to get a bit of a shock – not everyone is as trusting or relaxed as you and you may find that you do not get the career change opportunity you deserve, unless you are more determined to make it happen.
You might also like...