Police and Community Support Officers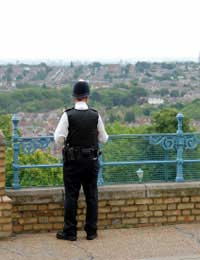 Bobbies, coppers, the old bill and the boys in blue are affectionate terms used to describe an important job role within many British communities. Police officers often have to operate in potentially dangerous situations in order to safeguard the public, and many are well respected for the role that they play in upholding law and order.
New recruits to the police force, special constables and community support officers can come from all different walks of life. There are, however, some stringent requirements that need to be met if you'd like a career change to the police service.
Because of the amount of training, moving into the police force isn't a simple process. There are around 52 different forces within the UK with slightly different entry criteria, but there are certain skills and attributes that every potential recruit will need in order to join. So what general skills will you need and what different roles can you undertake?
Police Officer Recruitment
The mainstay of a police officer's role is preserving order, crime prevention, investigating criminal activity, detecting criminals and being involved in the prosecution of offenders. A police officer can work in a variety of roles, from working at a desk, investigating crime at a higher level or involvement in more community-based activities such as foot and car patrol.
Before you think of changing career and applying to join the police force, you should first check whether you're eligible to join in the first place. For starters, the minimum age for recruitment is 18 years old. You must also be either a British or Commonwealth Citizen, or a citizen of an EU or EEA country. Eligibility also extends to foreign nationals who have been granted indefinite leave to stay in the UK.
You will need to have excellent fitness levels, as a police officer commonly undertakes a lot of physical activity as part of the job. With or without glasses, your eyesight needs to be good, and you should not be colour blind. To meet eligibility standards you will be subjected to a number of background safety checks that will include the declaration of convictions you may have incurred.
The recruitment process involves taking and passing a psychometric, health and fitness test, as well as several skill tests to check that you have all the necessary attributes to work within the police force. These include testing your communication, confidence in handling pressures situations, reading, number and writing skills, your ability to handle and process information, and to mediate, reason and make decisions.
Training on the Job
Once you have made it through the recruitment process, you will then be able to work on a probationary term for around 2 years while training on the job. During this time you'll combine study and work, which forms part of your Initial Police Learning and Development Programme (IPLDP). You'll also need to study and work towards NVQ Level 3 and 4 in Policing. Once you've successfully completed your two-year training period, there are opportunities to specialise within specific branches of the police force, such as traffic units.
Career Development
There is a lot of scope for career development in the police force. As a new or serving police officer you can currently apply for a place on the High Potential Development Scheme, increasing your chances by equipping you to work in a more senior role within the police force.
Extra training opportunities are common and expected when working as a police officer. There are many NVQ qualifications available at a variety of levels, and many promotional prospects rely on achieving these qualifications. Typical example of relevant NVQs include NVQ Level 3 in Police Organisational Management to NVQ Level 5 in Police Strategic Management.
Because of the Career Development scope, a job in the police force is probably one of the few remaining 'jobs for life'. However, if you are interested in police work, but don't want to commit to becoming a fully fledged police office, there are still other ways to become involved, such as training as a Police Community Support Officer.
Police Community Support Officer (PCSO)
As the title suggests, PCSOs have a supporting role, dealing with the somewhat minor incidents on a more local level. PCSOs will work in pairs or as part of a small team under the supervision of a police commander.
The exact tasks carried out by a PCSO varies from force for force, but most duties will include foot patrols, dealing with small disturbances or anti-social behaviour, helping out at large events, helping with public enquiries, directing traffic, detaining individuals prior to the arrival of a constable, and, in some cases, the power to issue a fixed penalty.
The training to become a PCSO is in many ways similar to police officer training, as recruits need to be good communicators, physically fit, and have good literacy and numeracy skills. Training can last anywhere from 3 to 12 weeks and is mostly based in the classroom. After this period a certain amount of training on the job and familiarisation with your local force will then be undertaken.
Paramedic and Fire Fighter Careers
To find out about other careers in the emergency services, visit our
Manual & Skilled Category
of this site.
You might also like...
I am Portuguese have no skills just working as a cleaner
Andreia
- 30-Jan-17 @ 4:39 AM