How to Become an Air Hostess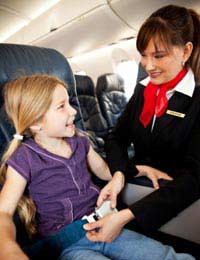 The reality of working as an air hostess is a million miles away from the outdated perceptions of a 'trolley dolly' or a 'waitress in the sky'.
With such strict safety regulations, a dramatic increase in low-cost flights and the tight turn-around times, plus regulations at airports, working as an air hostess, or rather, as cabin crew, is a very demanding job.
While there has been a large amount of negative press about cabin crew thanks to strikes causing travel chaos, the image of cabin crew is still very much that of a glamorous career choice. Many cabin crew may disagree with that though, as the role is fast-paced, relatively low paid and highly competitive.
So why is it considered an appealing option, especially for young men and women? Well, the travel perks are a huge incentive and even if you work for a low-cost airline, rather than a large international carrier, there are still plenty of opportunities to see different places around the world.
Salary Expectations
There are two quite distinct arenas for cabin crew employment opportunities – low-cost airlines and major international carriers. Although the salary expectations are not that different (starting at around £14,000 and rising to around £20,000 for more senior cabin crew) the perks do tend to differ, as do the conditions.
For low-cost airline cabin crew, the flights tend to be short, with a very quick turnaround and fewer opportunities for stops of more than one night. For the international carriers, it is common for cabin crew to have two to three nights 'off' in their destination city, with all expenses paid.
It is worth noting that these expenses have been curtailed in recent years, particularly since the recession impacted the travel industry, so hotels are less impressive and per diem (daily allowances) rates are reduced.
Cabin Crew Criteria
For all cabin crew, there is a raft of criteria that must be met prior to any application. Most airlines tend to have direct recruitment policies, with application forms available on their website (usually under the careers section) that must be completed online. Although there are a few recruitment agencies that deal with airlines, this is not a particularly popular route, so applying direct is a better bet.
As a rule, the criteria include minimum height restrictions (usually 5ft 2") and 'weight in proportion to height'. Although this certainly helps the 'glamorous' image of cabin crew, it is also for practical reasons, as the cabins are small, with a number of tasks needed to be completed in a small space.
Applicants must also have at least GCSE level English and maths, with references available from the last five years' employment. Applicants need to be well presented, with no tattoos or piercings visible, plus be able to swim and tread water.
Training
Most training is done in a group setting, usual at the UK base of the airline. For those applying to work at other UK airports, accommodation is usually provided for the duration of the training. This can be around four weeks, with classroom-based learning, flight simulation and empty test flights.
Career Development
Although many people see working as a cabin crew member as a relatively short-term career while they are young, free and single, there are plenty of opportunities available for career development, perhaps because so many people leave after a couple of years. There are senior crew positions as well as land-based roles, with many cabin crew choosing to work in an office role at the airline once their personal circumstances make the shift patterns and required flexibility of being cabin crew less appealing.
Other Careers in Travel
To find out what other careers are available in the travel industry, read our article
Working In Travel
in the
Leisure & Hospitality
section of this site.
You might also like...
Hi...i m a 21 yEar old girl nd i m 176 tall, i've been longing for being an Air hostess all my life. I even thought that because of my environmental background i don't stand a chance, that being in a cAbin crew team takes only advantaged women nd men. But i realised i was wrong, i used to google a lot regarding"how to become an Air hostess" and quite frankly the searches that i used to do had no use over me. Because they usually tells you that to be able to become one, you should have a CAA licence, which i don't even know how does one turn to have that licence. Anyhu, even if i apply online do i stand a chance that my application could be considered?? I m currently doing my N4 and my course is Human Resource, i was also doing my matric a Year before last nd i got "A" on English first lang, "C" on Maths Literacy.
michelle
- 14-Feb-13 @ 6:41 AM
Hey there, i am a 16 year old girl who is ?? my last year ?? school which is grade 12 this year, it has been my dream career ts take on being a Flight Attendant as my future career, but i really need career advice, i am from durban a?? i would like ts have an opportunity
saira
- 4-Jan-13 @ 4:40 PM
I has been my deram to be air hostess I have a 2 year certifcate under hospitality can I realy be an airhostess ...am 20 next in 2013 so I have just graduated nd I have worked with the 2 and 4 star hotels can ma hospiltality be applied in the plain? Thanx
jean
- 30-Dec-12 @ 1:26 PM
I am 20 years old and turning 21 soon. I would love to be an air hostess but not sure if i could still become one because of my age?
habibti
- 19-Nov-12 @ 12:29 PM
I would love to become an air hostess but have two tattoos on both writs both being very small tattoos which can easily be covered by a long sleeve shirt. Would it still be worth my while applying? Many Thanks
Emm's
- 1-Sep-12 @ 7:19 PM
would it be possible to just hide the whole where my nose pericing is with foundation? becuase i dont want it to grow over, but i want to become an air hostess. You can hardly see the whole anyway though, but i just don't want it to grow over.
pawprint77
- 28-Jun-12 @ 5:42 PM
@Rashmi You will need C grade or above in maths and english. To give yourself that extra edge above other candidates you could also study a second language.
Julie
- 21-Jun-12 @ 2:01 PM
I want to become an airhostess and i want to knw what kind of GCSE i need to take be for i select them thank you..!!
rashmi
- 21-Jun-12 @ 7:25 AM
I have 11 GCSE's ranging from A* - C and I also have A Level grades ranging from A- C, I am a multi-linguist and fit the criteria for being an air hostess. However I do have a visible tattoo on my leg which I can cover up with thick nude tights but will that effect my employment chances even if I can cover it up?
Nia
- 10-Jun-12 @ 3:58 PM
im a girl of 14 and i really want to become an air hostess in future.
Charming Princess
- 15-May-12 @ 9:35 AM
'fuejehdeu' - I think your comment was a bit rude. You should respect what other people want to do as a career. Anyway, 'kahrypoo' - in the UK you will need 4-5 GCSE's grade A*-C and knowing another language will help you, but it is not required :) I hope this helps, all the best of luck! Oh and for extra information on Air Hostess entry requirments visit any of these websites:
Ash
- 18-Apr-12 @ 10:38 AM
i want to become an air hostess and i want to know what kind of GCSE i need to take be for i select them, thank you
kahrypoo
- 16-Feb-12 @ 10:11 PM
be an air hostess if you want to but i will recommend you to choose another career than air hostess because I don't think you get paid too much for all the hard work you do in the aircraft. also you will be bored all the time, just helping people. if you like travelling then i will again recommend you to be a pilot than air hostess because at least it is paid well for the hard work you do
fuejehdeu
- 28-Jan-12 @ 2:52 PM