Further Education Lecturing and Tutoring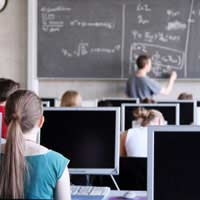 For further education lecturers and tutors, working with young adults and mature students with more developed minds brings a different set of personal and professional challenges to working with children.
Lecturing and tutoring in further education can be a hugely rewarding career, especially for those who teach a subject that they are particularly passionate about. Meeting and working with students with similar passions and fervour can only enhance one's working life, and is a fantastic career choice for anyone who is organised, enthusiastic about what they do, has a flair for communication and is well educated in the school of life!
What Sort of Work Will I Do?
As a further education tutor and lecturer, you will have a variety of roles and responsibilities, each of which will require a different
Skill Set
. Organisation is a key skill, as you will be preparing and planning lesson plans, lectures and seminars for your students, as well as undertaking different administrative tasks that include the continued monitoring and assessment of each student. It's also worth bearing in mind that, in many cases, you'll be following a set course curriculum with specific aims – further education lecturers and tutors most commonly teach degree and vocational courses, professional diplomas and HNCs and HNDs.
Excellent communication is also essential, as you will be required to tutor on a one-on-one basis with students of all different ages, backgrounds and abilities. Further education tutors can work with 16-19 year olds and adult learners, with some tutors working in schools with children that undertake vocational qualifications from the age of 14 upwards. Tutors can also be involved in aspects of pastoral care for their students. Lecturing involves speaking to students en masse, so public speaking skills should be well developed and engaging.
Enthusiasm is a much-needed attribute, as further education tutors are often actively involved in the contribution and formation of new college courses and new course material. Because there are times when you will be representing your educational institution, you'll also be a first point of contact for many prospective students, so your enthusiasm and dedication should shine through.
What are the Entry Requirements?
To develop a career as a further education lecturer and tutor, you'll obviously need to be well qualified in the subject that you wish to tutor or lecture in. Currently, it is most common for prospective further education lecturers to be qualified to degree level in their subject, but in some rare cases suitable and relevant experience may be acceptable.
In England and Wales, full-time further education tutors also need to have a teaching qualification and obtain QTFE (Qualified Teacher in Further Education). If you have already gained QTS (Qualified Teaching Status), you will be able to work as a further education tutor or lecturer. However, if you don't have any teaching qualifications, you'll need to either obtain a PGCE that specialises in post-compulsory (over 16) education or further education, or study for a university Certificate in Education (Cert Ed).
If you only wish to work part-time, you'll need to have obtained at least a stage one or stage two teaching certificate. A common example of this is a City & Guilds certificate, which can be gained through studying part-time. It is also generally assumed that further education tutors and lecturers will be competent in their IT skills.
Career Development Prospects
A further education lecturer or tutor cannot use their QTFE to work in schools as a teacher – the shortage of
Teachers
at present has seen some lecturers working in schools as instructors. Under the advanced practitioner scheme, there are many opportunities to also increase your skill base as a lecturer, which can result in rewards for excellence in the classroom.
Working as a tutor also has career development prospects in other areas of further education, typically with progression towards head of department, admissions tutor or a management post. Some management roles will require specialist training and qualifications themselves, particularly in the departments of finance and human resources, so additional qualifications such as relevant NVQ may be applicable.
Fractional lecturers can also supplement their income with additional private tutoring or exam assessment marking, with some further education lecturers utilising their skills as consultants.
What Salary Can I Expect to Achieve?
The salary you receive can vary depending on the educational institution that you work for, its location and the qualifications you hold, but the average salary for a further education lecturer tends to work out at between £16,000 to just over £20,000 for a 37 hour week (not including lesson preparation, meetings and work assessments).
Senior lecturers can expect in excess of £30,000, and fractional lecturers can be contracted on an hourly basis, typically earning anywhere up to £20 an hour, depending on experience, qualifications and location. Obviously, these rates are set as a guideline only, and the difference between salaries between one college and another can vary greatly.
Training to be a Teacher
For more information about becoming a teacher or a lecturer, read our Q&A
Train to Teach, Where do I Start?
You might also like...
Sam - Your Question:
I'm mother of two & from Pakistan.i m fully qualified teacher over there but got equivalent British bechlor degree here.worked 6 month class room assistant (volunteery)3years lunch time supervisor while I was on literacy and numeracy course.i want to b teacher assistant.what route I should take?i have no idea but I have to do job to meet life needs.
---
Our Response:
Take a look at our guide on
Becoming a teaching assistant
for more information.
ACareerChange
- 22-Feb-16 @ 2:12 PM
I'm mother of two & from Pakistan.i m fully qualified teacher over there but got equivalent British bechlor degree here.worked 6 month class room assistant (volunteery)3years lunch time supervisor while I was on literacy and numeracy course.i want to b teacher assistant.what route I should take?i have no idea but I have to do job to meet life needs.
Sam
- 19-Feb-16 @ 8:28 PM
Hi, could you advice me what to study? I am confusing between nursing and teaching assistant . Many thanks
lara
- 29-Apr-15 @ 2:05 PM
I would like to know should I register first at a certain institution before I get any source of funding? Because I don't have any source of funding which means I'm a 21year unemployed South African.
given
- 11-Nov-12 @ 9:07 AM
@Morse75. Thanks for your candid opinion. I have been considering FE as a direction - I am going to have a serious rethink and chat to some people I know for guidance. I am only young and don't want to make a huge mistake. Thanks for highlighting this. Good luck with whatever you do!
traineeTeacher
- 4-May-12 @ 12:31 AM
This site is seriously misleading! - I must agree with Bod. I have worked as a Lecturer in Art & Design specialism within FE colleges for the last 11 years. I left industry as a Graphic Designer following a redundancy and loved the job. The last 8 of which have specifically been teaching at Level 3 (3x A-level equivalent) as a Course leader. However over the last 5 years the job has taken over my life, helped ruin at least one meaningful relationship, and generally - due to the constant pressures of the role affected my physical and mental health. Worse still is the fact that almost all the colleagues I know within the FE sector - based in colleges across the UK have similar feelings and stories to tell!! I thought it was just me and kept my concerns to myself, but in the last 3 years nearly all the FE college lecturers I have spoken to (admittedly most are in the Creative industries side of subjects) are feeling demoralised, marginalised, undervalued, tired, stressed and considering what other careers to take a leap to. Sorry for the rant, but FE is the cinderella of education - see things you should know below.• FE is not part of Local Authority control - unlike many schools• FE is funded partly by Public monies, but also by individuals on HE or part-time courses• FE is run as a business first.education always comes second• Many FE colleges ignore the AoC (Association of Colleges - a national organisation of College Principles who negotiate with the FE unions mainly UCU) national pay and conditions agreements and are entitled to quite legally - making the Union bargaining almost null and void• My own college has not awarded a cost of living rise for nearly 4 years - which for those already near the top of their scale is tantamount to a real-terms pay-cut every year.• School teachers get designated planning time (Not usually enough, but) FE Lecturers (dependent on individual contracts per institution) barely allow enough time to check your e-mails - prep happens in your own time too often, and is invasive to your home life• HE (Higher Education) lecturers at Universities get more pay and research time, many equivalent HE in FE lecturers are stuck on the same contract as all other levels and yet expected to respond to the needs of their role without the pay, conditions or recognition that a university colleague would get• FE Lecturers have to battle to get students as many new 6th forms or former feeder schools with new 6th forms are not even informing their GCSE students of the possibility of a Vocational education. Competition is rife and too often lecturers are expected to teach lower and lower levels to provide through-flow to higher courses.•
Morse75
- 10-Mar-12 @ 8:42 PM
I've served in the forces for 10 years and I m looking to change my career to teaching / FE lecturing ! I don't have a degree however I have 7 GCSE'( A-C ), numerous NVQ and city & guilds qualifications. Where would you recommend i start ? any feedback would be very much appreciated
hank
- 24-Oct-11 @ 11:02 PM
There's a great deal of naivety and inaccuracy in this summary for FE Lecturer.FE Lecturer's do not teach mainly degrees and HNDs - mostly the work is from Foundation level to level 3 with some higher level teaching if appropriate to the institution (which varies widely).A good many FE Lecturers will be having to work with disaffected youngsters as well as those who are motivated (perhaps as young as 14 yrs old) - Salaries are not as good as school teachers generally but they are not generally as low as quoted here either.I've never heard of qualified teacher further education - the current standard is QTLS qualified teacher learning and skills.It also not exceptional for an FE Lecturer to lack a degree, it's actually quite common; FE Lecturer's often teach in vocational subjects where industry appropriate professional qualifications are needed rather than academic degrees.This page therefore needs a serious update as it's rather misleading.