How do I get an Electrician's Job in TV and Film?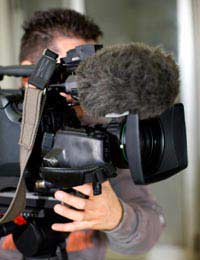 Q.
For some time now my dream has been to work as an electrician on television or film sets. Is there any chance you could tell me some companies or websites that I could look at? At the moment I don't know where to start...
(Mr Adam Hall, 24 January 2009)

A.
There are a number of agencies and online organisations that specialise in recruitment for the film and TV industries, so there is certainly a possibility that you can find the type of work you are looking for.
Having a focus on the film and TV industry is great – once you know what it is you are looking for, it is far easier to find it – but do be aware that many other people have the same goal as you.
Be the Best You Can Be
In order to succeed in such a competitive and desirable industry, you really need to know your stuff. Regardless of whether you want to be an electrician, a caterer or a security guard, these jobs within the film and TV industry are often over subscribed – not everyone wants to be an actor, but plenty of people want to be in this sector, so be prepared for the competition.
That said, there are many ways to make it more likely that you are the one that gets the prize. For a start, only the very best people will get the job – this is no place for slackers. So make sure your skills and qualifications are totally up to speed, that you're always on time and on budget. You need to be easy to work with, efficient and trustworthy. If you make sure this is in place, when you do get a break in the film and TV industry you are well positioned to make the most of the opportunity.
On-line and High Street Options
In terms of where to actually find the opportunities you are hoping for, there are a few options, such as online recruitment/crew sites that are geared to the film and TV industry. The most well-known is Mandy, although it is also worth Googling with keywords such as 'crew, production, electrician' and trying general sites like Gumtree.
Don't rule out the traditional high street recruitment agencies that recruit for electricians, but be smart and register at the ones near TV and film production locations, such as Elstree, Pinewood Studios and White City (all in London).
A final point to really hammer home is that no reputable agency will charge you to register with them. Dodgy types in the film and TV industry can play on people's insecurities and desperation, but they will never find you work. Stick to making yourself as employable as possible and then targeting professional agencies.
Other Jobs as An Electrician
For more advice on a career as an electrician, read our feature
Jobs in the Electrical, Plumbing or Plastering Trades
in out
Manual & Skilled
category.
You might also like...
I'm a vary experienced electrician in all aspects domestic and site work Looking for a new and exciting job for new challenge over 40 years experience
Ginger
- 10-Sep-22 @ 10:43 AM
Iam a electrician with 40 years experience covering all aspects from domestic to industrial currently working at Longcross studio for spec on a large installation but looking to get into more of the film set maintenance side
Dave
- 12-Nov-20 @ 11:51 AM
Ive been an electrician for 10 years now and fancy a new challenge in my career and ive always been interested in the way the sets work on film and tv and would love a chance to put that on my cv.
Joeys17
- 11-Apr-17 @ 10:04 PM
Hello I'm lookin for a electrician job on the movie set in any city
yogi
- 30-Dec-16 @ 1:20 PM
Hello I'm lookin for a electrician job on the movie set in any city
yogi
- 30-Dec-16 @ 1:14 PM
hi I am looking for an electrician job film stage any where . right now working in goa
veer
- 13-Sep-16 @ 12:17 PM
Very interested in working on set tv or movie on locations in and out off the UK.I'm a hard working electrician who has worked on construction, installation and maintances sectors. As a ex soldier I'm used to getting jobs done under pressure and have a can do positive approach to any thing I'm tasked to do as well as gelling as part of the team.
hicksy
- 26-Jul-16 @ 6:27 AM
Hello I'm lookin for a electrician job on the movie set in any city
manish
- 28-May-15 @ 3:26 AM
Hello I'm lookin for a electrician job on the movie set in any city I've been an electrical mechanic for 33.5 years at the south water filtration plant at 3300 echeltinhamplace
EddieA
- 16-Sep-12 @ 5:37 AM